Today we are going to do a comparison of Logitech Z623 Vs Z625 to find out which one stands out as your best choice.
Although each product has pros and cons, we will dig deep to find the perfect choice for you. First, we will look into each speaker's features, pros, and cons, and then we will compare and contrast and get to a conclusion.
So, let's dive right into it:
Key Takeaways

We will compare the Logitech Z623 and Z625 speaker systems. We will discuss their design, sound quality, power capabilities, and connectivity options. The key takeaways will include insights on the immersive sound experience provided by the Z625's 2.1 surround sound, the convenience of multiple input options, and the compact design and THX certification of the Z623. Whether you prioritize surround sound or compactness, we will provide valuable information to help you make an informed decision between these two speaker systems.
Logitech Z623 Vs Z625: Quick Comparison
Logitech Z623

Compact Design
2.1 channel configuration
THX-certified sound experience
400-Watt Peak power

Logitech Z625

2.1 surround sound experience
400W Peak/ 200W power
1 optical input
3.5 mm inputs x 2
Table of Contents
Logitech Z623 Vs Z625: In-depth Comparison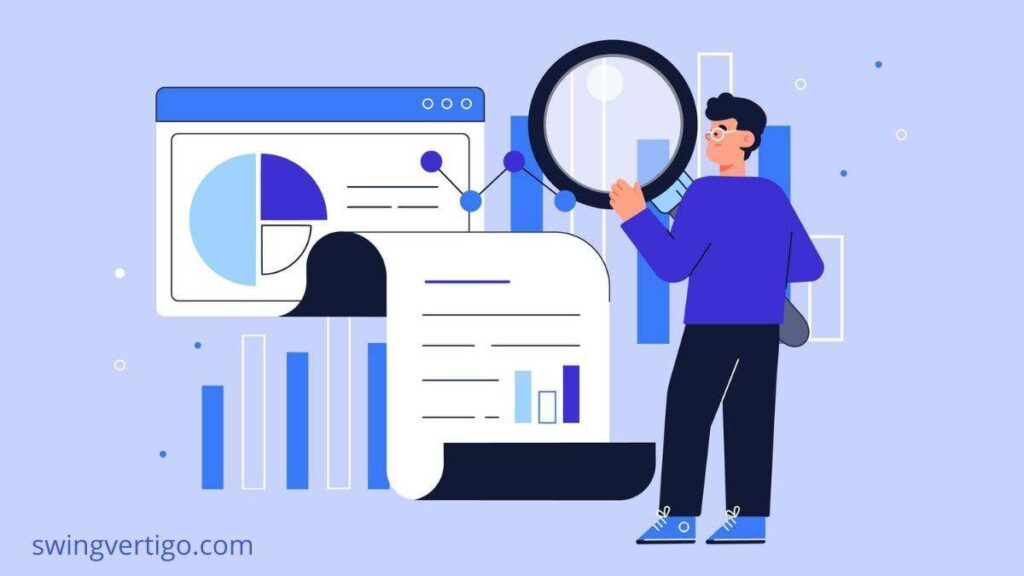 When talking about computer peripherals and accessories, Logitech is the first word that strikes our minds. It's been ages since it is ruling over global digital products. A daily user tech-savvy person would never be naive about Logitech's perfect grab over the sound system.
SERIES
Logitech Z623
Logitech Z625
Item Weight
18.15 lbs
18.1 lbs
Dimensions of
Speaker
(Height x Width x
Depth)
7.7 inches x 4.6
inches x 5.0 inches
4.6 inches x 7.7
inches x 4.9 inches
Speaker Weight
2.1 lbs
1.9 lbs
Subwoofer Weight
15.4 lbs
14.31 lbs
Total Power
200 Watt
400 Watts/ 200 Watts
(RMS)
Speaker Power
2 x 35 Watts
2 x 70 Watts/ 2 x 35
Watts (RMS)
Optical input
no
yes
3.5 mm Input
2
2
Color
Black
Black
Customer views
4.7/5
4.7/5
Price
Check Price
Check Price
Analyzing all the rationals, Logitech here arises the question of the gradual need for good sound systems. Whether highlighting customers ' health or the growing sound pollution, it's their priority to redeem.
---
---
Likewise, I introduce you to a renowned version of Logitech's Z623 and Z625 gaming speakers. Both of them constitute a strong satellite speaker with a powerful subwoofer. The whole setup is small and user-oriented.
Why Logitech?

When it comes to computer peripherals, nothing is more promising than a Logitech brand logo. In this era where innovation, creativity, and technology are exquisitely blended to create remarkable products, Logitech has emerged as one of the world's best electronics brands.

All those who have used its products have great trust in the brand. Logitech, on its behalf, is also keeping up with its reputation by launching one great product after another. Logitech has brought great sound systems to the market in the past decade. A regular tech-savvy user would never be naive about Logitech's perfect option over sound systems.

Analyzing all the rationales in terms of performance, Logitech understands the gradual need for good sound systems. And as a response, it is constantly bringing sound systems that suit people's needs. Whether you are a gamer or a music lover, Logitech products can surely attract your attention. There is a plenitude of Logitech speakers in the market. Also, Logitech tries to bring the best products at a decent price range.
Although there are interesting features in both of them, there's always the one which's superior to others in some qualities and chosen to be the best over others. So, let's discern Logitech Z623 vs Z625 respectively to be aware of their extraordinary features in detail.
Logitech Z623 Complete Analysis
Affordable Speakers
3.5 mm inputs x 2
RCA analog inputs x 1
Built-in headphone jack
No distortion at high volume levels.
Response range: 35Hz-20kHz
200 W RMS power rating
2 years limited warranty
Logitech Z623 Sound Performance
A gaming speaker with a powerful subwoofer, Z623 delivers bold and booming sound that brings movies, shows, music, and games to life. Its 400W Peak/200W RMS power delivers thundering audio quality, which you can feel with every beat.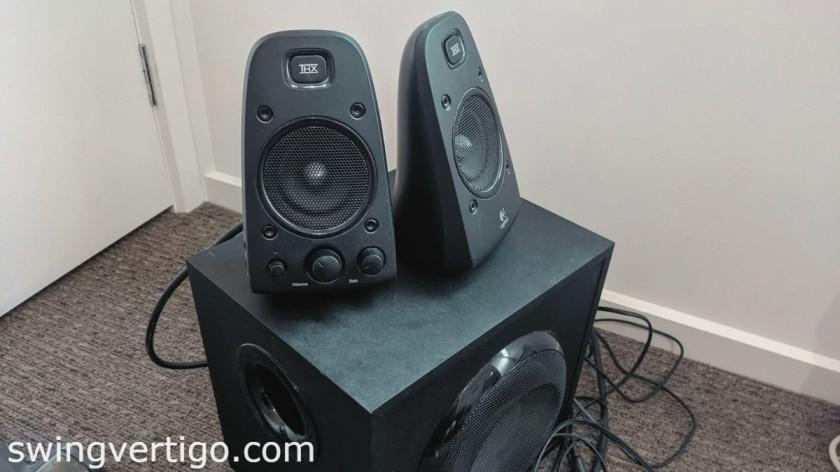 Logitech Z623 Connectivity
The speakers have a 2.1-channel configuration. You can simply connect it to your television or your favorite game console, PC, or smartphone using 3.5 mm and RCA inputs and enjoy a theatrical aura, all thanks to its THX sound.

Its multiple inputs let you connect to up to three devices simultaneously. You don't have to disconnect your pairing when switching between the devices.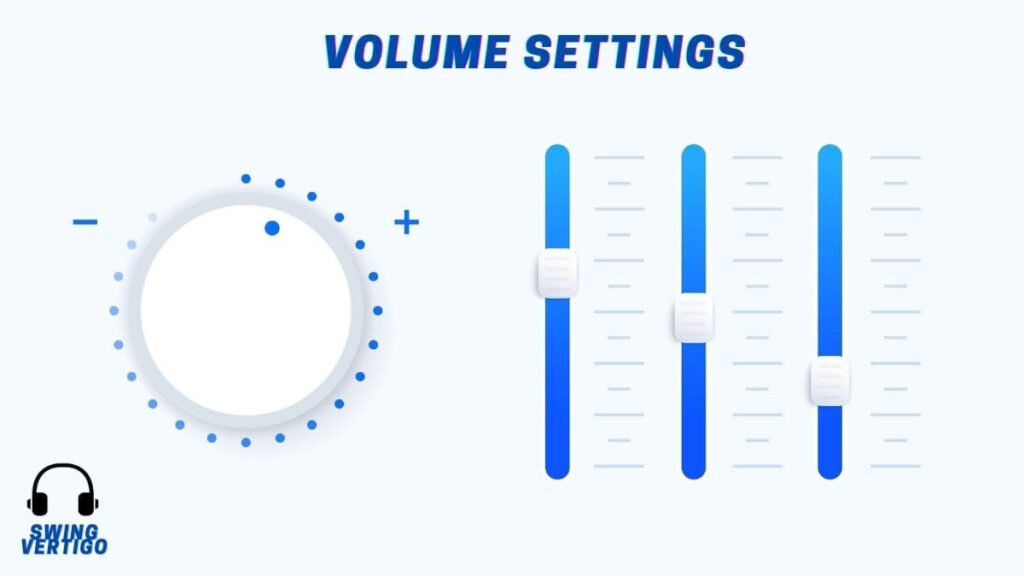 The speakers also provide custom sound control, enabling you to adjust the bass intensity and monitor volume using its integrated controls.
What's Included In The Box?

These multimedia speakers come with a 2-year warranty. The product includes two satellite speakers, one Subwoofer, a 3.5 mm audio input cable, and user guides and documentation. You will only get one color option with them, and that's black.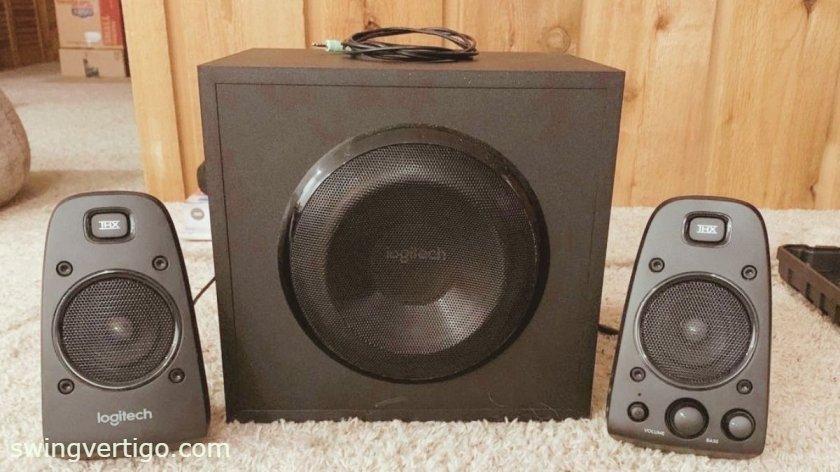 Quick Recap Of All The Key Features!
Sound Quality: The audio is THX-certified, which means incredible quality. The bass is heavy, and the sound is clear, but the performance gets hampered at high frequencies. Still, its crisp sound is remarkable for its price.
Built Quality: Built with sturdy plastic, customers don't find the built quality to be an issue. The system has a glossy black finish, which fits the surroundings.
Satellite speaker(both left and right):
Height:196 mm
Width: 117 mm
Depth: 126 mm
Weight: 1750g
Power: 2 x 35W196 mm
Subwoofer:
Height: 284 mm
Width: 305 mm
Depth: 266 mm
Weight: 7000g
Power: 130W
Works with devices:
TV
PC
Smartphone
Tablet
Music Players
DVD Player
Blu-ray Player
PlayStation
Xbox
Wii
Or other devices with a headphone 3.5 mm jack or RCA inputs
Logitech Z623: Why Buy Them?

They are the best 400 watts home speaker systems, highly compatible with television, PC, smartphone, or DVD player. They have an enormous plug-in system for up to 3 audio devices. It was first available on July 9, 2010. It is designed to have the most out-of-the-box experience of an amazing theatrical aura.
Logitech Z623 Pros And Cons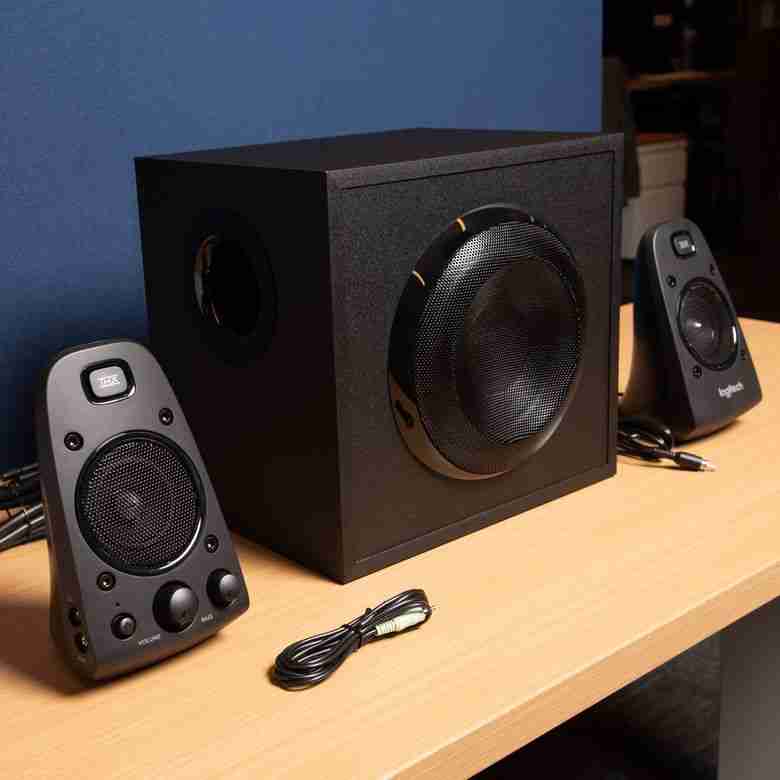 The Good
Speaker with precision with a

tremendous bass.

The power button for easy volume and bass control.
Affordable audio speakers
Ideal for games and movie watching
Sturdy built and

durable quality

Heavy bass
THX-certified
Built-in headphone jack
It can be connected to 3 audio device
Works on gaming consoles like Xbox and PlayStation
The Bad
They are built ideally for PCs, so they have to be kept in front.
High frequency can cause damage to the bass system
A bit costly
No Bluetooth connectivity
Lack of remote control
Customer's complaint of malfunctioning after 5 yrs. of use
References For Nerds
Logitech Z625 Review
RCA input
Headphone jack
THX-certified
Simultaneous multiple connections
Power and control buttons on the right speaker
Wireless connectivity
1-year limited hardware warranty
The Logitech Z625 speakers are similar to Z623 speakers in many aspects. In terms of quality:
Logitech Z625 Sound Performance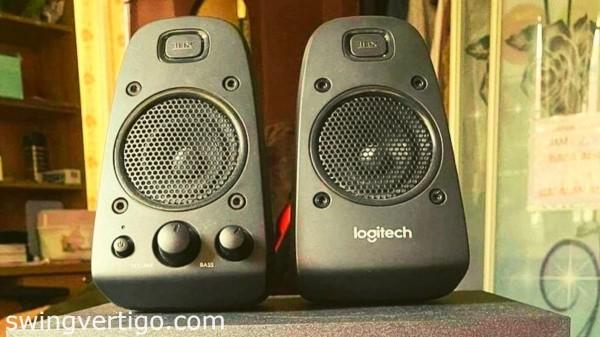 It is a THX-certified sound system reproduces sound at an amazing tremendous bass. It gives a whole ambiance of a perfect mixing studio.

It was first available on August 19, 2016, which is why it's in the high stipulation, the latest version. It owns an optical input which makes them different from Z623. It has a high demand in terms of speakers, joysticks, mouse, etc.

Like Logitech Z623, 400W Peak/200W RMS watts of power ensures the theatrical and explosive experience while gaming, watching movies, or listening to pop. It also connects to up to three compatible devices simultaneously using cables. It has buttons on its right satellite speaker. It has a 2.1 surround sound configuration. It supports optical connectivity, 3.5 mm, and RCA inputs.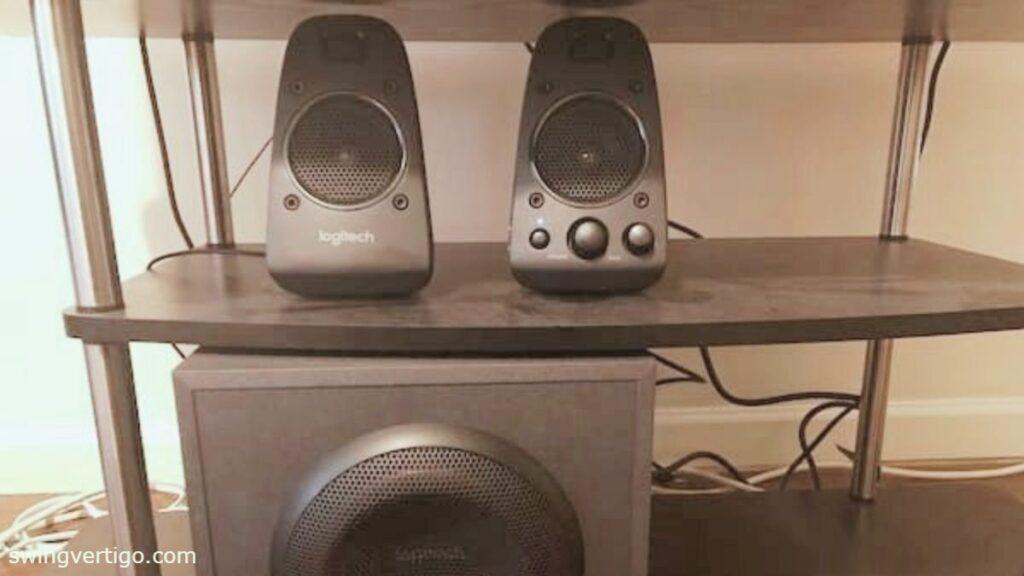 Logitech Z625 Connectivity
Same as Z623, you need not disconnect when switching devices. It also has two satellite speakers and one subwoofer. It can connect with multiple devices like TV, PC, gaming devices, smartphones, tablets, and more. It comes in black color.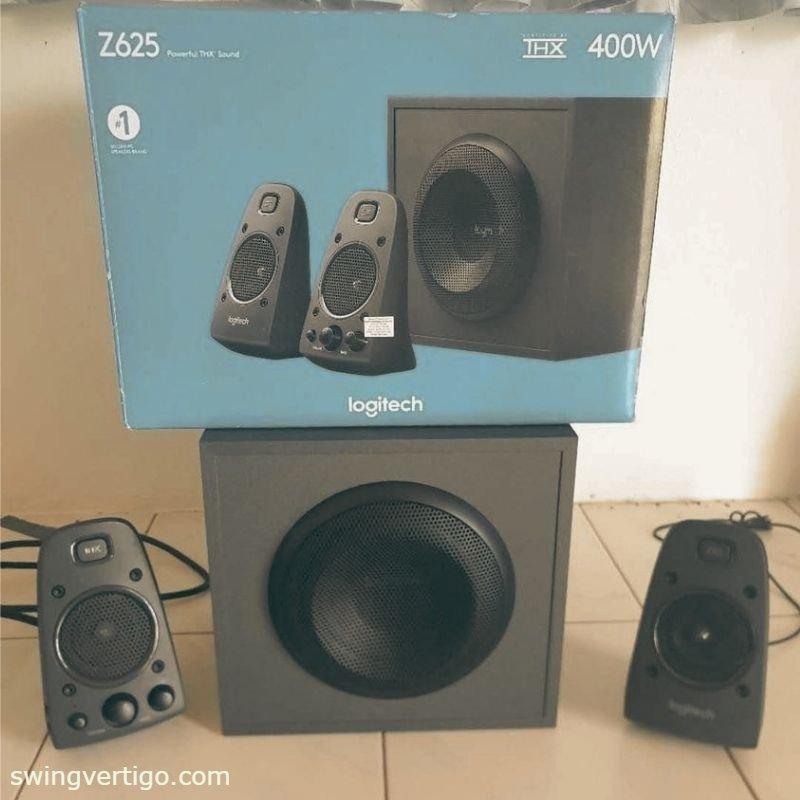 A Quick Recap Of All Key Features!
Sound Quality: Deep Bass suits gaming and music-listening needs. THX-certified audio ensures an accurate audio experience similar to movie theaters. It is quite satisfying for the price.

Built Quality: Built with high-quality plastic, the speakers are less likely to get physical damage. They have a matte black aesthetic look which can work with most environments.
Left satellite speaker:
Height: 195mm
Width: 116mm
Depth: 124mm
Weight: 850g
Power: 35W
Right satellite speaker:
Height: 195mm
Width: 116mm
Depth: 135mm
Weight: 900g
Power: 35W
Subwoofer:
Height: 303mm
Width: 282mm
Depth: 264mm
Weight: 6400g
Power: 130W
Works with a range of devices:
Television
Computer
Tablet
Smartphone
Music Players
DVD Player
Blu-ray Player
PlayStation
Xbox
Wii
Or others with optical, headphone 3.5 mm jack or RCA inputs
Logitech Z625 Pros and Cons
The Good
Smooth and loud sound
Well organized THX certified
Can connect multiple devices at once
Power bass and deep lows
Optical input
Clear audio quality
Headphone jack
Simultaneous multiple connections
The Bad
Lacks remote control
No Bluetooth connectivity
High frequency can cause trouble for your ears as well as the speaker
No remote control or Bluetooth connectivity is available.
Tonal accuracy could be better
References From Nerds
Logitech Z623 Vs Logitech Z625: The Ultimate Showdown!
Z623 and Z625, if kept side-by-side, look just the same at first glance. But if you look closely, there are some noticeable differences. First, though the design and color are almost the same, the size of the Logitech Z625 is slightly smaller than that of the Z623.

As a result, Z625 is also slightly lighter than Z623. Another thing to mention is that the Z625 model has a matte finish, while the Z623 speakers have a glossy finish.

Keeping all that aside, let's look into the more considerable differences in terms of features and more:

Optical Input: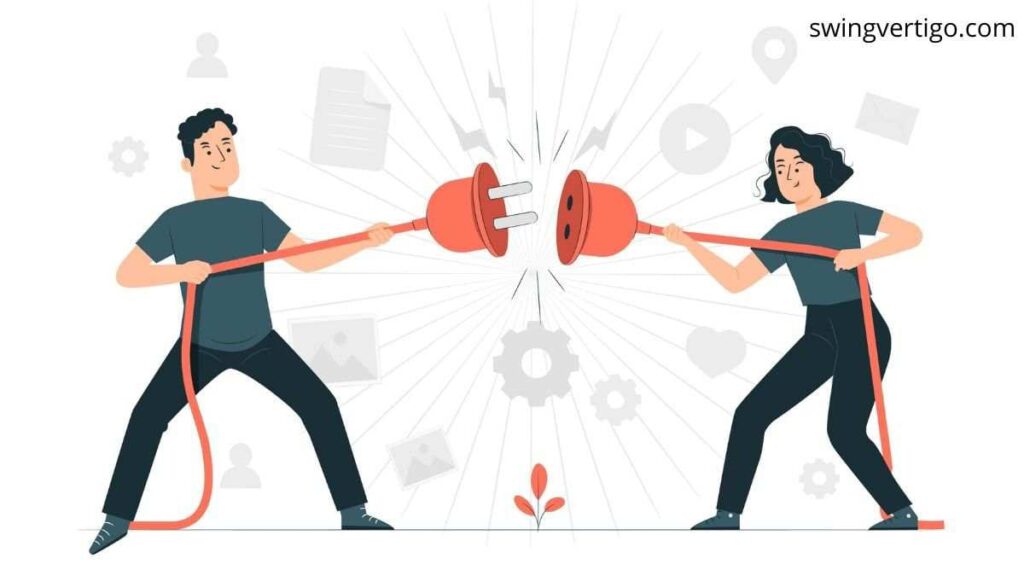 The major difference between both the models is the Optical Input. There are analog inputs in Logitech Z623. On the other hand, the Z625 model comes with an optical input. This gives a slight edge to Z625 in terms of performance.

Optical input opens up numerous possibilities, the major one being that this additional connectivity feature can make you replace your soundbars. The optical input is often overlooked, but this feature is a gift that enables you to connect seamlessly!
About Optical Input Cable
To be particular, the Optical cable connection is a superior one due to the isolation of audio. It slightly increases the precision of the system as a whole. You can't particularly notice the sound difference unless you head to high-quality audio.

Optical Input (also known as 'Toslink') connects speakers to a device and then transmits information in digital format broken into "bits" down the fiber optic cable. You might know about lightning-fast speed fiber broadband connections; they use the same technology. This technology reduces the chances of loss and interference.

Warranty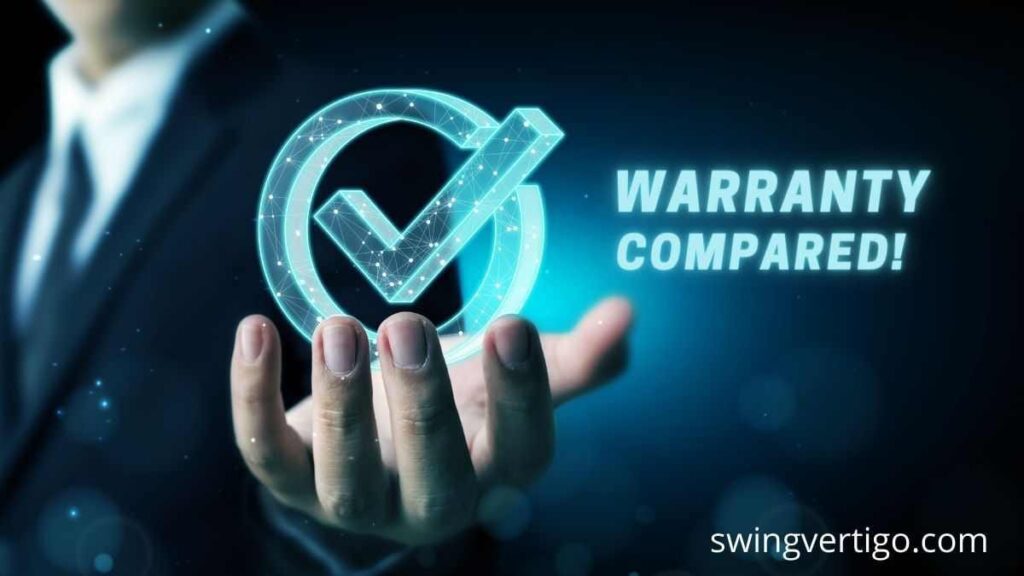 Though warranty does not bother most people, it may affect some people's decision.

The Logitech Z625 speaker comes with a two-year limited hardware warranty.

On the other hand, the Z623 model only comes with only a one-year limited hardware warranty.
Wired Inputs

The Logitech Z623 has two wired input methods- the 3.5 mm and RCA inputs.
The Logitech Z625 has an upside here, as it comes with three input methods- the 3.5 mm, RCA, and optical inputs

As I mentioned earlier, the optical cable connection is a considerable advantage of the Z625 speaker system.
(Though Z625 has more ports, both can connect to up to three devices simultaneously.)
Additional Features To Be Considered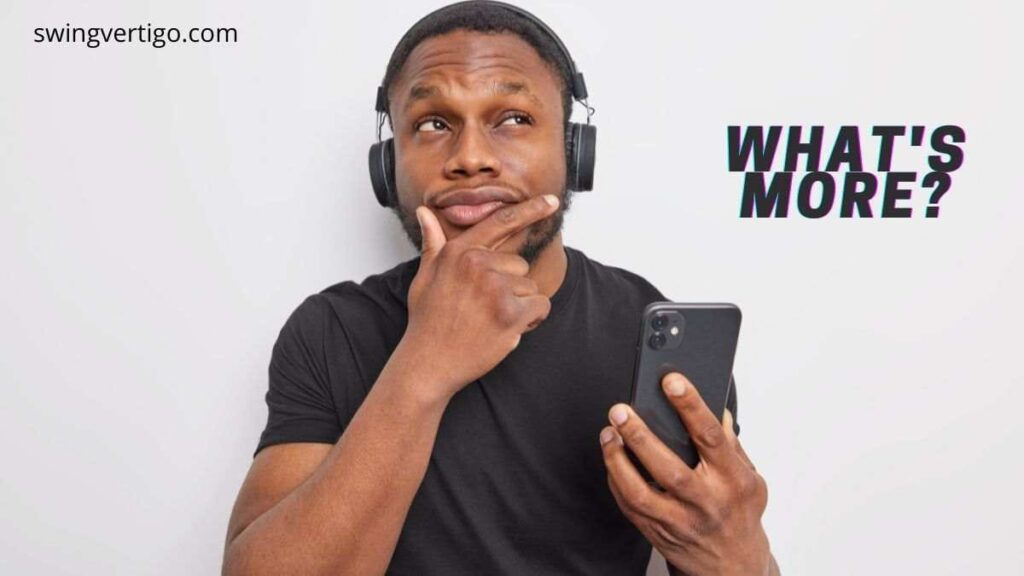 As you might have noticed, Logitech has mainly added the optical input feature to develop the Z625 speaker system. Still, we can not deny that the Z623 is one of the best speakers, and a little improvisation makes it all the more impressive!

Adding an optical input opens up many possibilities, and choosing between these two models is a tough-to-solve problem.
So, Who Wins The Battle Ultimately?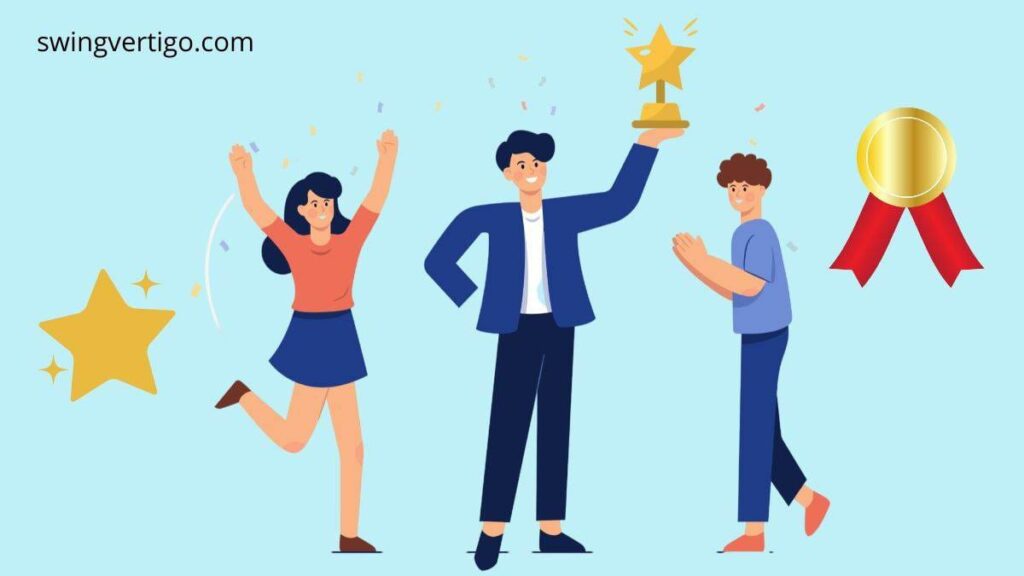 Considering the facts, the Logitech Z625 speakers surely have a slight edge over the Z623 speakers. However, you should consider your needs first. Consider all the devices you will need to connect the speakers with. Look if you will require the optical input or not.

If you are not on a tight budget, you can buy the Z625 model. If paying some extra bucks does bother you, and you really don't need any additional input (or could smoothly work without it), you can go for the Z623 speaker system.

If you want a straightforward answer to which one is better, it would be the Z625 model. But one thing you should remember while buying electronics is that the best buy is the one which suits your needs best at the minimum cost.
In my experience
In my experience, both the Logitech Z623 and Z625 offer impressive sound quality and immersive audio experiences. However, I found that the Z625's 2.1 surround sound experience provided a more engaging and encompassing audio environment compared to the Z623's 2.1 channel configuration. The additional speakers in the Z625 truly enhanced the depth and richness of the sound, making movies and games feel more lifelike.
Furthermore, according to my understanding, the presence of an optical input in the Z625 is a notable advantage. This feature allows for a direct digital connection, resulting in cleaner audio signals and a better overall audio experience. The two 3.5 mm inputs also provide flexibility in connecting multiple devices simultaneously, which is convenient for users with multiple audio sources.
Overall, in my opinion, if you're seeking a more immersive audio experience and value the convenience of multiple input options, the Logitech Z625 would be the preferred choice. However, if you prioritize a compact design and THX-certified sound, the Logitech Z623 still offers exceptional performance and would be a reliable option.
In the end, it's all about your budget and choice. There is a slight difference in optical input and price between the two.
However, if you only have gaming needs, you can pass over the optical input facility. Both of these speakers are affordable and highly reliable.
It's your choice and requirements, at last, that matter.
Anyway, I'll love to hear your comments on this review, so do share your thoughts here. I don't read your comments.
I cherish them 🙂