Today we will hear more about the Sony WI XB400 Review and decipher why it should be on your wish list.
This is because Sony headphones have made their mark in all possible factors. Well, it is Sony; the product will have its own hype.
The Sony WI XB 400 is a great product, we must say. From performance to outstanding audio quality, it has it all.
Let's know more about the Sony WI XB 400 Review in detail.
Image
Product
Price

Sony WI XB 400Quick Review

Punchy Sound: The voice quality is excellent; it comes with extra bass effects.
Voice Assistant: It comes with the compatibility of voice assistant support.
Bluetooth Support: It also offers Bluetooth 5.0 connectivity with wireless technology options.
Affordability: It has great pricing, of course!
Battery Life: A 15-hour battery life with fast charging technology

Check PriceFull Review >>>
Are you thinking of buying a headphone with the best bass quality ever? But you do not have the time to sit and look at hundreds of options, so you want just straight away to buy and save the selection time?
Well, we know a product that fits exactly all of your requirements. And we will be reviewing it today in detail. Ready for the ride into the world of technology?
Also Read: 9 Best Earbuds That Look Like Earplugs [And Block Noise Effectively!]
It has excellent features, even much more than we have listed. These are a few laudable ones; the rest will be discussed in later sections.
But that's not it; there is a lot more that we would love you to know about it. So let's focus on the details of all the features in an explained way.
Sony WI XB 400 Review: Everything You Need To Know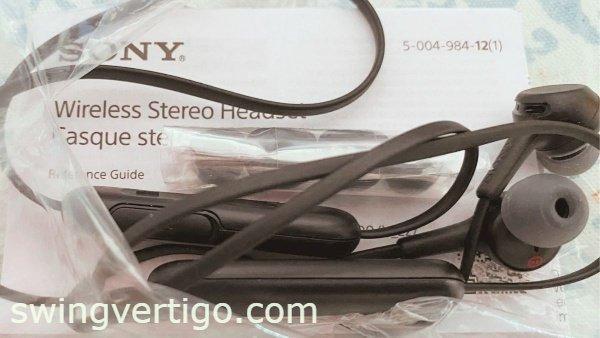 Are you in a hurry to buy headphones but don't have much time to explore various options? It is understandable, which is why we've covered it for you all here! Sony WI XB 400 is the best if you are hunting for affordable yet great earbuds to cater to your needs.
If you remember the previous Earbuds series that Sony had released, you will find a resemblance to these.
In terms of durability, you need not doubt again on these. Yes, it is possible you may have encountered comfort issues with the previous Sony earbuds you had, but time to forget the past experiences. These are easy to use and have a durable design as well.
That's a miss that these earbuds do not come with water-resistance features. These may not fit into your itinerary if you are a swimmer or a hiker. They are more like "general purpose" earbuds that you can get in an amazingly affordable price range.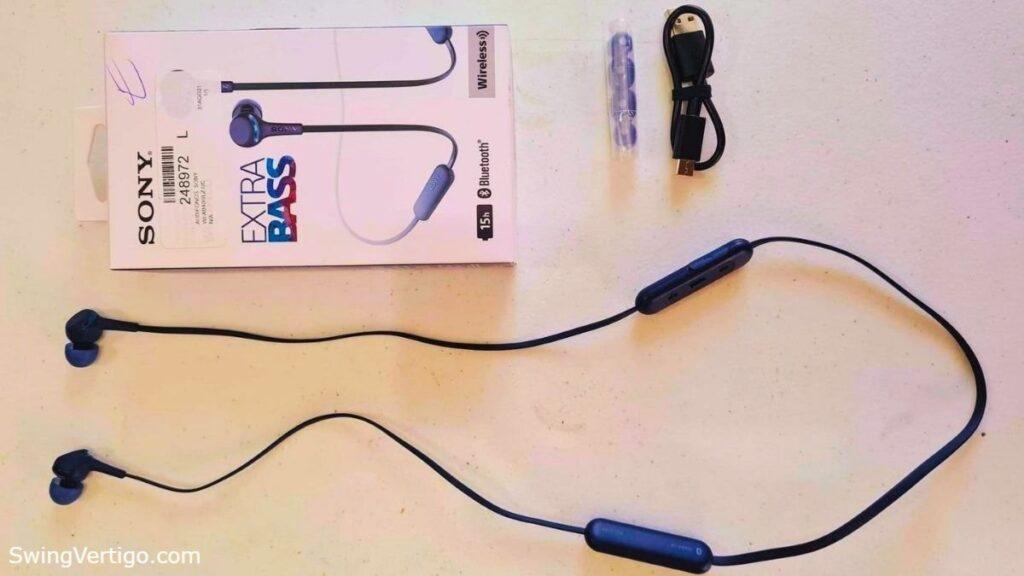 Key Features
These

wireless

headphones have extra bass features that give a deep, punchy sound. The superior base response of these earbuds makes them worth the purchase. 

 It is compatible with the voice assistance of Google and Siri. You can activate it using the control button on your earbuds.

They come with Bluetooth 5.0 for their connectivity and can work up to a wireless range of 50 feet. It is compatible with most devices through its Bluetooth connectivity. You can even pair it up with your Windows 10 or Mac.

Compared to other headphones, its price range is very affordable and budgetary. You rarely see a low-budget headphone coming suited with such brilliant features.

It comes with a lithium polymer rechargeable battery. Its battery life lasts up to 15 hours and also comes packed with the features of fast charging. So, for instance, if you're running low on battery and charging it for 10 minutes, you will receive a playback time of 15 minutes. 
What All Comes In The Box?
Also Read: Raycon e25 vs e55 [Expert Comparison]
Unboxing is the new fad amongst content creators. So if you wish to know what else you are getting along with these earbuds, here is a list of the items:
And that's a wrap! You can see that this is pretty much all you will need for your earbud package. Indeed, they have not missed anything here. So it all comes down to analyzing features that it provides you to answer how much they are worth.
Interested Even More? Here's A Brief Analysis:
Comfort
Well, no one wants to spend money in vain if the earbuds are uncomfortable. And we know that too.
But they are incredibly soft on your ears. Your ear size does not matter, you have to put them in, and you will see that they are gentle on your ear canals and do not hurt at all.
Afraid that your glasses might affect their comfort? No, they do not get harsh if you wear glasses; you can wear them for multiple hours straight!
The best part is that you will not even get a headache, so my specs-wearing friends can also be assured of that.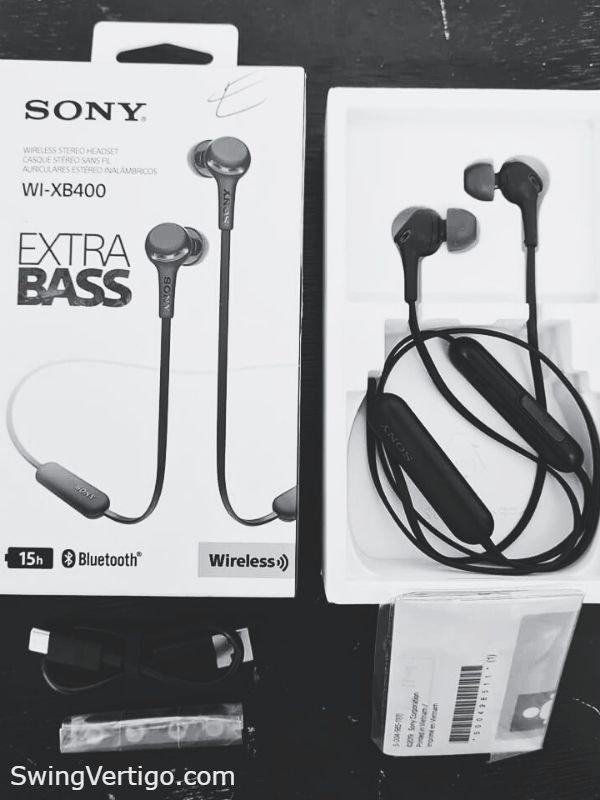 They come with three extra pairs of ear tips and can fit any ear canal. They might cause a little discomfort on your neck when you lie down because they have a design similar to a necklace.
Yes, you heard me right; it resembles a necklace. You will know more about this feature in the later sections; keep scrolling down to read more details about it.
Compatibility
As mentioned in the above sections, it has Bluetooth version 5.0 for connectivity purposes. It has a decent wireless range of up to 30 feet.
This headset also has the feature of multi-pairing, which means that you can pair it with multiple devices and enjoy flawless connectivity with all of them. Although you can not listen on multiple devices simultaneously, only one can be played at a time.
The Sony XB400 is capable of supporting only SBC and AAC codecs. It does not support Aptx or Aptx HD, which if it did, would have been an absolute masterstroke, but alas, they missed it.
It also does not support connections with Bluetooth, so if you plan to connect them with aux cables to another device, that will not be possible. These headphones cannot be operated via the "Sony Headphone Connect App."
It can be paired with most devices offering Bluetooth connections. It easily connects with your mobile phones and PCs.
Simple Setup
This device is effortless to set up and control. You do not need any specific mastery of technology to pair it up with your devices. The buttons are basic and easy to operate.
Turn on the headset with the power button; if it is the first time you are pairing Sony WI, it automatically goes into pairing mode. But if it is not the first time, you need to hold your power button for 7 seconds to make it go into that mode.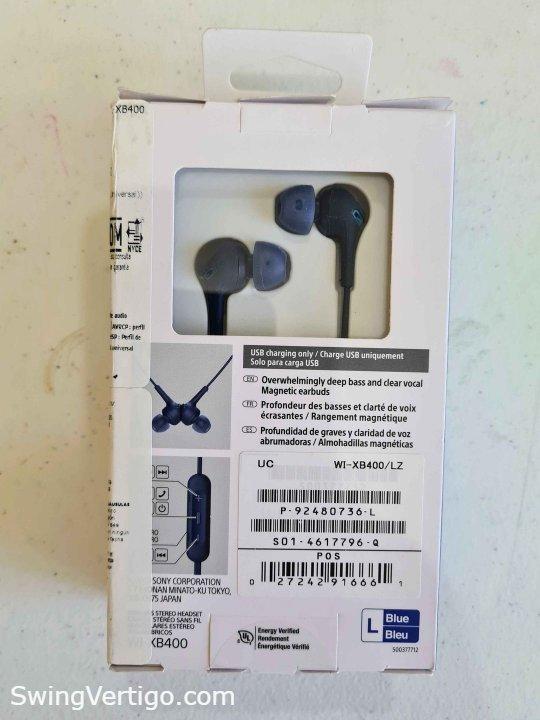 You will see the blue light flash and hear a voice command saying, "Bluetooth Pairing." Search for "Sony WI XB 400" on your device in the Bluetooth section and pair it up to finish the setup.
Tada! You are done with the setup in no time. Well, what else do you need? An easy, quick setup is all that we can crave for our new pair of headsets.
Sony WI XB 400: Fantastic Performance
Recommended Video Reference: Sony WI-XB400 Review [And Interesting Comparison]
Sound Quality
The most important factor to consider while buying a headphone is its sound quality. These come with extra bass effects, which means you get exceptional sound quality at an affordable rate.
The music seems as clear as a crystal as the earbuds have been built with enlarged 12 mm drivers; there's no clutter that you hear at all.
Though the mid-range is not as excellent, you will undoubtedly hear every note sung by the singer, and you may even listen to the beats.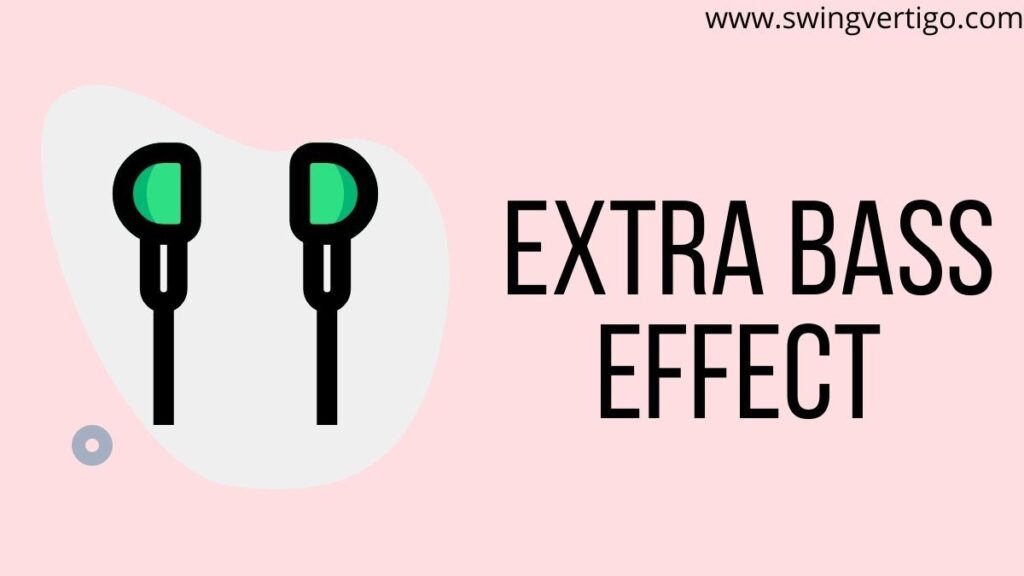 There is no sound leakage; your music will stay intact. It does not come with noise cancellation features; if you are looking for them, this may not excite you that much.
Though you will be unable to manually adjust some settings from Sony's app for these earbuds, unlike the other pair of headsets, we are afraid it won't be possible if you are looking for some customizations through its app.
Physical Properties
Yes, they resemble a necklace, as I said before. They come in two colors, black and blue. Both of them look good and sleek. So, if you are looking for some "aesthetic" factors, these have covered them beautifully.
The primary material used in its making is silicon. This is what gives it a professional look. The exterior design comprises a magnet, making it portable and easy to clasp together when you wrap it around your neck.
Flaunt Your Style
The overall design is simple and minimal, like standard flexible neckband headphones. The neckband is adjustable and not rigid on your neck. You can keep it in your pocket or around your neck; it is all about you. 
The product is portable. Its weight is only 0.74 ounces and is thus, lightweight and easy to carry. Talking about stability, the Sony XB 400 earbuds are very stable with a great fit. You are unlikely to face any issues from its extent of comfort.
If you are a fitness freak or an athlete, do not worry that they will fall off when you are in the gym, we bet they will not because they are utterly perfect in their fitting.
Built Quality
This flexible neckband headset is made of rubber and plastic material, giving it a decent look and sleek built quality compared to its cost.
These elements in its design make it exceptionally strong and durable for prolonged use. Scared that you may break them if it slips off? Don't worry; Sony has built them to survive such shocks easily.
Also, it assures you of a one-year guarantee, so if anything happens to them within the first year of purchase, Sony is at your rescue with a warranty of one year.
Also Read:  Best In-Ear Monitors For Singers
Overall, the built quality is highly durable, solid, and sturdy.
About The Components
These headsets are extremely easy to operate. There are three standard adjustment buttons on the left side of the headset, out of which two are for volume and one is for the power button.
The power button is operated to switch on/off, play music, and answer incoming calls. You can press this button to pause your music or end the call you are attending.
The control module on the in-line part of the headset connects both earbuds. You can easily get used to the three mentioned buttons as they are placed in a traditional style. The power button is in the center, and the volume plus and minus buttons are above and below it.
You cannot mute your calls as the only buttons this headset has, are the three we mentioned. So you cannot turn it off during a call; it will directly end the call you are answering.
But yes, you can be assured of the uninterrupted and clear hands-free calling that this pair will give you.
Other Notable Features And Properties
Battery Life
A tough one, right? But yet one of the most important factors to consider while purchasing headsets. These earbuds can deliver a battery life of 15 hours, while the average battery life span is just 12 hours. So this one has pretty good battery life.
But if you hear it always at 100% volume, you might make its battery life fall to the average one that we just mentioned above.
If your significant aspect of buying revolves around battery life, we suggest you switch to another product.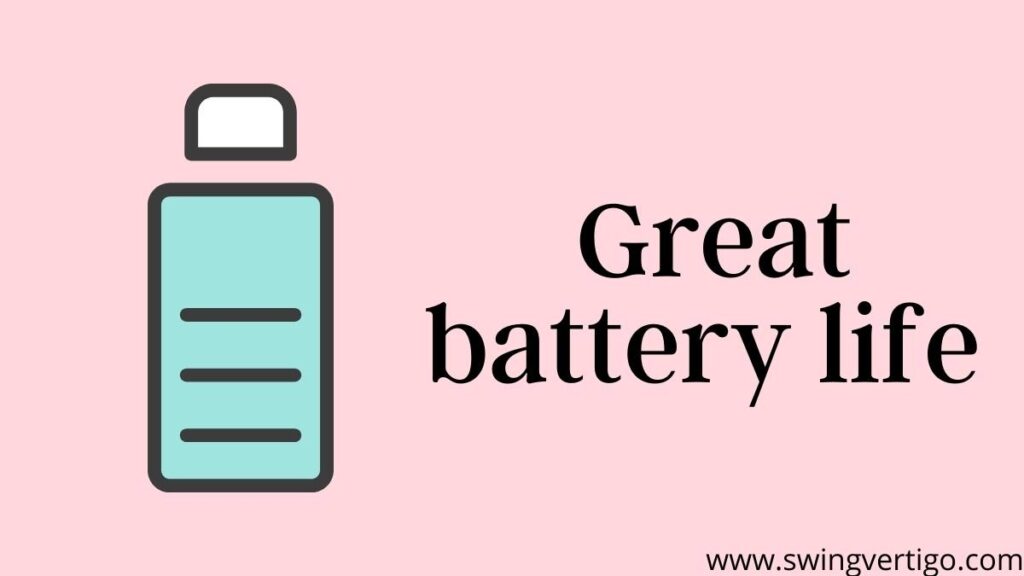 Still, their battery lifespan is above average, which is not usual for products in such a range.
It has a USB-C-based charging port, so you can take absolute advantage of this because if you charge it for a few minutes, you can hear your favorite music for a few hours straight away.
Its lithium polymer rechargeable battery provides the features of fast charging, which lasts long as already discussed.
The charging completes within 3 hours, and a red light pops up to signify that it is time to remove the cable and enjoy your favorite tracks interruption-free.
But there is one drawback you need to take care of. This headset does not give you any warnings of low battery.
The last you will hear from them is when you charge them; it tells you how much battery percentage is available. But it does not warn you when the battery is too low and needs to be charged. So take care of that!
Water Resistance
Oops, if you are a swimmer and wish to take these headsets to the pool, you are making a wrong decision. We know that you all expect Sony earphones to be waterproof, but this feature is amiss in these.
Please do not take these along in your shower or jacuzzi baths, too; it will be a terrible idea. It is susceptible to significant damage and complete malfunction when exposed to water.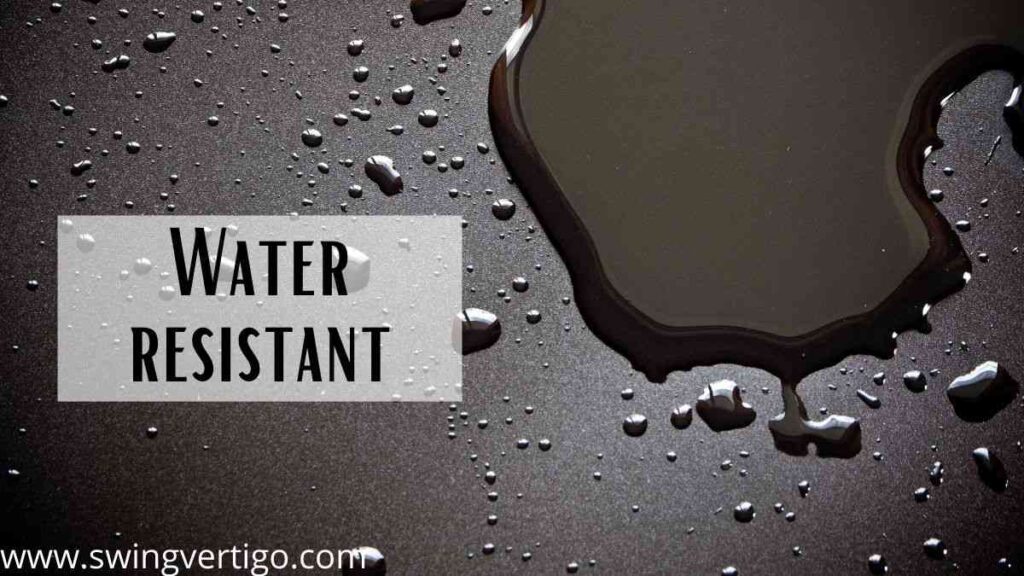 So if it starts raining on your evening stroll, these might not work correctly after that. If it is avoidable, do not wear them on a cloudy day.
You should opt for some other headsets if you are majorly hunting for the feature of water resistance; these are not built for you then.
Microphone
Indeed it is not as good as an expensive headset, but it sits moderately precise and is apt for calling. The mic does not block the surrounding noise, but it is good in terms of this earbud.
Recording the speech is possible through this mic. It is understandable and clear, and the sound quality of the recording is moderate.
These headphones are pretty decent for calling; their hands-free functions and speakers are good enough for you to make clear calls.
Noise Cancellation
The king of the trends of current times in headphones, noise cancellation, is missing in this pair of earbuds. The Sony WI XB 400 does not come with this feature, so it is worth noting that if you are buying for this feature, you should reconsider your choices.
It is unable to cancel or cut out ambient sound. But it provides a fine audio quality to satisfy your minimal needs. You can hear the background clutter with your favorite tracks playing in sync.
Gaming Performance
Hola to the gamers who have been so patient reading this review so far, it is hard breaking out to you, but these earbuds are not the ones you should be considering in your wish list.
Gaming and its equipment have seen a massive boost over the past few years, and it is evident that headphones play a crucial role when you want to have a great gaming session with your tech-savvy friends.
And we understand this perspective of yours.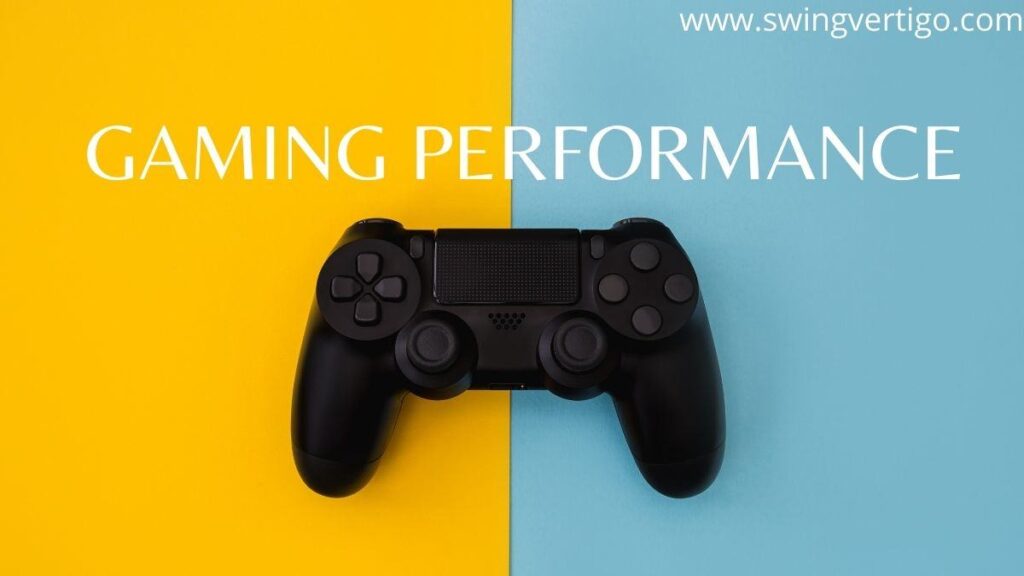 The Sony WI XB 400 is not the right choice for gaming as it is not suitable. This is because they can not be paired with gaming platforms such as Xbox One, PS4, and Nintendo Switch.
Are you looking for a gaming headset? Sorry, these do not fit your needs. Try looking up another alternative, like Boat Immortal 200. These might be the ones that you can buy for gaming.
So now that you know everything about these headphones in detail, are you considering purchasing them? Before you head on to do that, let us now talk about who should consider these Sony earbuds and who might skip these.
Should You Buy These?
Here comes the main question, should you consider adding them to your bag? You know the details; now, the only task left is to sort those details into an appropriate answer. 
If you love hearing your music with extra bass, there must be no more questions, and you should add them to your cart. Their bass and audio quality are simply extraordinary. 
But of course, just because you wish to buy a pair of Bluetooth earbuds, that should not mandate your thought of purchasing. Well, that is not the only criterion we should keep in mind, right?
Need a headset to manage your work-from-home calls? This can be perfect for you then. They are not so good for official or Zoom meeting purposes but can manage daily calls reasonably well. 
It is portable for daily walks, vacations, commutes, and music-listening activities. 
If you are a gamer, you should skip it. These are not at all suitable for gaming platforms due to compatibility issues. You should also skip it if you need a headset for studio purposes. It is one of the worst choices for these motives. 
What People Complain About
Damage when it gets into contact with water: No water resistance is its major drawback, so if you are walking and you get wet in the rain, these might not work properly after that.
Earbuds are large: They might be a little big for people with small ears, so check the size before purchasing. Though they are comfortable in the ear canal, the size might be a problem for some.
Always on the microphone: The microphone quality is decent, but it always stays on. You cannot mute it during calls; you can only end it. So this thing may get a little tedious at times.
Sony WI XB 400 Pros and Cons
Each product has its own set of pros and cons. For Sony WI XB 400, they are listed as follows:
The True Picture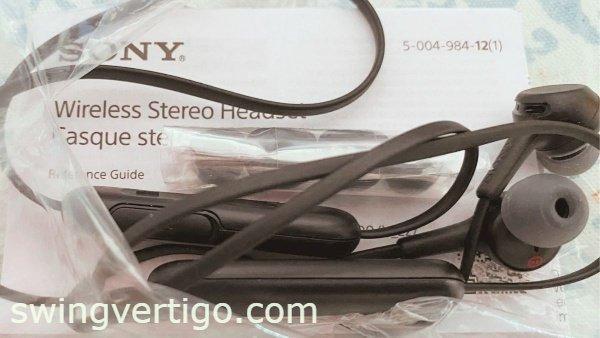 Pros
Extremely comfortable
Great sound quality
Lightweight
Portable
Amazing battery life
Worth for money
Compatible with almost all devices
Extra bass effects
Cons
Not waterproof
No Aptx Support
Not recommended for gamers
No voice cancellation features
Not compatible with gamers
Is Sony WI XB 400 The Right Choice?
Well, this answer lies deep within you. As in the end, there are multiple types of users, and each differs in their own needs and choices. So the apt answer for this question can only be given by you. We can just lay down the facts.
Are you a bass-head? Do you thrive on high-quality audio music? Then my friend, this product holds a lot of value for its features of extra bass and extravagant sound quality.
That is what Sony is known for, right! Sound is of the best quality and is unquestionable for Sony. And such great bass and outstanding sound quality are scarce to see in such low-budget headphones. This is what sets these earbuds apart.
It is perfect for both indoor and outdoor listening. The robust features of voice assistants are great; they work both with Siri and Google.
Though it has its own set of weaknesses, they can not be ignored. Their construction is average, and few noteworthy features like waterproof qualities, noise cancellation, and connectivity by Aptx are absent.
Overall, it is an excellent choice if your budget is restricted, and you want high-quality stuff. If the neckband style is not something you are looking for, reconsideration must be on the cards.
Sony WI XB 400 Review: More Questions?
Does the box come with a user manual?
Ans. Yes, the box comes with a user manual to help you when you face a backlog with the operation of Sony earbuds. So if you get stuck on how to operate, start or reset, it can always come in handy to you in that case. 
Do the headphones come with a warranty?
Ans. Yes, Sony provides its customers with a warranty of 1 year. So if any damage happens to your product, you can get it fixed in no time.
Is there a customer support service available if any issue arises?
Ans. Yes, Sony is a friendly and hassle-free customer support service available 24*7 in your service. They always try to provide you with the best assistance and support. Your queries and feedback are always appreciated; also, your issues get solved in a short span of time.
How good is the cable and mic quality?
Ans. It is decent enough for comfortable and interruption-free use. The wire may seem thinner than usual, but you can be assured of its durability.
Which one is better, Sony WI SP510 or Sony WI XB400?
Ans. Sony WI XB400 and Sony WISP510 are both exceptional wireless headphones from Sony. The fundamental difference is that XB400 is cheaper and lighter, while SP510 offers a reduced charging time and slightly better noise cancellation for its range.
Can they be connected to a TV?
Ans. Yes, they can, but only if you have a smart TV with Bluetooth connectivity. On a standard TV, you may not connect it as the USB cables provided are not long enough to make that possible.
Sony WI XB 400 does a commendable job, not just in the price bracket but also delivers an astounding audio output.
Sony as a brand is already out there in the market delivering quality and reliable products. These wireless in-ear headphones are no less, making no exception to that and living up to the brand name.
A clear and impactful audio balance offers a great listening experience. With the feature of enhancing low-end frequencies, the headphones provide a boosted bass. The sound deliverance is quite heavy and runs deep inside. 
The sleek and flexible design runs softly along the neck and rests well. The soft and lightweight neckband feels weightless and comfortable to be left hanging around the neck.
The headphones can rest comfortably inside the ears with silicon rubber tips for seamless, undisturbed music hours. 
The Bluetooth feature on the headphones lives up to its reputation, offering negligible Bluetooth latency for a smoother and more enjoyable hearing experience. 
With a battery lasting more than 15 hours on a single charge, these headphones are ideal for a good music experience.
Also, do remember if the battery runs out, a mere 10-minute charge is enough to offer an additional 60 minutes of undisturbed playtime. 
For anyone looking for a possible suggestion in the wireless headphone range that suits the pocket and packs a punch, Sony WI XB400 is the ideal choice.
With the buttons available for easy operation, it is time to go truly wireless and hands-free.
I hope your conclusions can be resolved, and you can decide whether to buy or skip it. 
Thank you for your time and patience in reading this article, and good luck with your purchase! 
Rach Wellard
Rach Wellard is the driving force behind Sound & Solitude. Her mission is to help you discover the profound impact of sound in your daily life and to explore the beauty of solitude. With a deep passion for the connection between soundscapes and emotions, she brings a unique blend of expertise and personal dedication to our platform.
Rach understands that every individual's auditory journey is unique, and she's here to guide you every step of the way. As a devoted audiophile, Rach's discerning ear carefully selects the most exceptional products that align with your desires for Sound or Solitude. In a world filled with noise and chaos, Sound & Solitude serves as your sanctuary.
Rach's journey as an autistic individual with a heightened sensitivity to sound fuels our commitment to creating an inclusive space where everyone can find solace while enjoying the meaningful sounds in their lives. Her understanding of diverse sensory needs enables us to offer personalized recommendations and insights, ensuring that your chosen audio equipment not only meets technical criteria but also resonates with your unique sensory preferences. And if you simply seek the best sound possible, Rach has you covered.
At Sound & Solitude, authenticity is our foundation. We provide unbiased reviews and comparisons because you deserve nothing but the truth. Our reviews are meticulously crafted, drawing upon Rach's deep understanding of audio technology and the human experience in the Sound and Solitude realms. Whether you're searching for noise-cancelling headphones to immerse yourself in music or seeking a gaming headset that transports you to virtual worlds, you can rely on our reviews and personally tested comparisons to find the best equipment for your specific needs. Explore our carefully curated content, from the latest wireless audio advancements to tips for creating your ideal auditory retreat.
Let Sound & Solitude be your companion in your quest for perfect sound, rich experiences, and beautiful serenity. Join Rach as she redefines the way you listen, connecting you to the power of Sound and the Solitude it brings. Together, we'll evolve into your trusted platform for all things related to Sound & Solitude.