In this updated guide, I will walk you through a detailed Mpow H19 Review so that you can make an informed choice in 2023.
And I will be honest: Mpow H19 indeed cancels external noise like a pro with an unbelievable budget price.
Here I begin my detailed review:
Hybrid ANC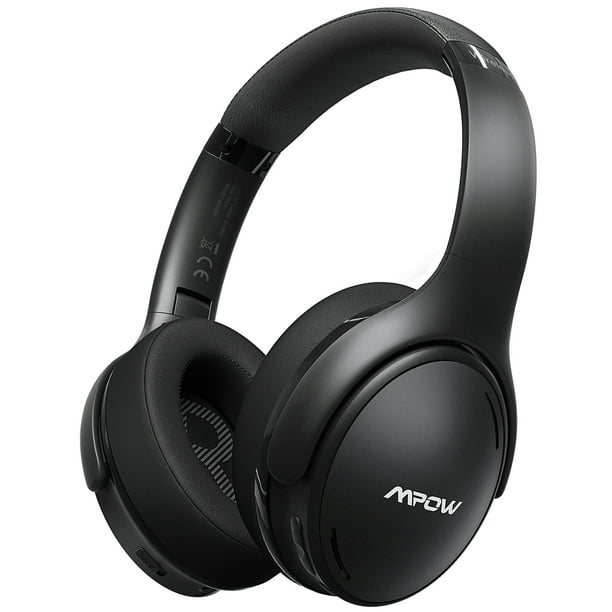 Pros
Long Battery life
Powerful bass and sound
ANC noise cancellation
Foldable earcups
From performance to noise cancellation and Bluetooth technology to high playback time, the device will not disappoint you in any aspect. Read More.
🤔Alternative Choices To Consider
Anker Q20 ANC
Pros
Efficient ANC feature.
Good sound quality with an additional bass-up feature.
30 hours of continuous battery backup for everyday use.
Good build quality alongside good cushioning and comfort.
Cons
Headphones can't be used while they are being charged.
The plastic parts of the headphones make them feel cheaper.
Q20 can be your sweetest companion whenever you want to cancel out sounds you don't like.
Cowin E7
Pros
Modern and attractive design with an aesthetic color combination.
Comfortable to wear.

Optimal battery capacity.

No sound leakage issues.
Cons
Mediocre microphone quality.
Bulky to carry.
If you are looking for aggressive-looking headphones with an excellent wireless range, E7 could be a good option.

Read More About Cowin E9 Reviews
👊Mpow H19 vs. Anker Q20 vs. Cowin E7: My Ratings Revealed!
| | | | | |
| --- | --- | --- | --- | --- |
| Product | Sound quality | Noise cancellation | Battery life | Price |
| Mpow h19 | 9/ 10 | 10/ 10 | 9/ 10 | 9/ 10 |
| Anker q20 | 9/ 10 | 9/ 10 | 9/ 10 | 9/ 10 |
| Cowin e7 | 10/ 10 | 9/ 10 | 10/ 10 | 9/ 10 |
🗣️A Heart-felt Audiophile Discussion!
Everyone loves a headphone that can deliver high performance and use very low power. The problem that comes with good-performance headphones is that they use a lot of power and do not last long on a single charge.
However, the advancement of technology has finally allowed us to find a product that can last longer and provide powerful sound. The price tag may be a bit high compared to other headphones, but it may be worth it.
The Mpow H19 headphone is a choice worth considering because when you compare the device with other headphones in its class, this device provides multiple high-end features.
🧑‍🔬Detailed Mpow H19 Review: Are Its Features Any Good?
🎼Design And Built Quality
Also Read: Solo Pro vs Studio 3 [2022 Updated]
🎵Detailed Advanced Noise Cancellation
🔋Powerful Battery Backup
Also Read: Best Audiophile Headphones
🎧Sound Quality
Also Read: Best Workout Headphones
📶Connectivity
💡Mpow H19 FAQs
What's the difference between Mpow h19 and h19 IPO noise-canceling headphones?
There are only some notable differences between these two headphones.
In Mpow H19, you can control music by just touching it. It has a touch sensor, whereas Mpow H19 IPO doesn't have a touch sensor.
Mpow H19 is water-resistant; on the other hand, H19 IPO is not.
There are many color options for Mpow H19, such as black, silver, and white. But H19 IPO only comes in black color.
How do I connect to my MPOW H19?
You should long press the Bluetooth button for at least five seconds and have to wait until the red and blue light flashes.
Does MPOW H19 have a mic?
Yes, it does have a mic designed with CVC 8.0 noise-canceling.
What is the ANC button on Mpow headphones?
This center button can play/ pause whatever it is playing with a short press. These headphones can also answer your call with a single short press.
How do I reset my Mpow H19?
Before you try to reset your Mpow H19 headphones, you should switch them off and place them back in the charging box. Hold the power button till the red and white light blinks alternately. After that, you can directly go to your device's Bluetooth settings, pair it again, and wait for the blue Bluetooth light to flash.
🙋‍♂️My Final Words
We hope this MPOW H19 review will answer all your questions regarding the device. Do you have any questions? Have you used Mpow H19 before? Share your thoughts in the comment section below!