In this post, I will dive deep into Runmus gaming headset reviews to provide a COMPLETE GUIDE in 2023.
The Runmus headsets might be the first option for comfortable over-ear headphones, but their high-quality features and cheap price seal the deal. They are also popular for their high microphone quality.
So, let's dive into this detailed review right away:
Runmus Gaming Headset Reviews At A Glance
Is Runmus Brand Reliable?
The Runmus brand has emerged as one of the new gaming headphone companies that are dedicated to providing the best performance at cheap prices.
They are based in Houston, Texas, and have been rising since 2020.
If you are a pro gamer and deal with many gaming devices, then you might have heard about Runmus. The biggest highlight of the Runmus company is that they provide pretty powerful headsets at affordable prices.
The Only Reason Why Many Choose Runmus
As mentioned earlier, the biggest highlight of Runmus headphones is that they provide good quality at cheap prices.
You might already know gaming equipment is quite costly for a gamer. It takes thousands of dollars to build a powerful machine, from keyboards to gaming mice and powerful gaming CPUs.
On the other hand, you would not like to compromise on quality by choosing cheap products.
This is where the Runmus gaming headset comes into the picture. They promise to provide quality products at cheap prices.
The Stunning Design that Steals Your Attention
Fortunately, the Runmus headset designs do not disappoint. This headset is quite robust, and its beautiful design makes it the king of aesthetics.
The credit also goes to the LED lights that really make you look like a professional gamer.
You can expect a bulky design, and some variants also have RGB lighting. These headphones come in multiple color options, such as green, blue, red, and even pink.
Comfort That Makes You Crave
The Runmus gaming headphones are extraordinarily comfortable.
The secret behind its comfort is its durable material, which is nothing but flexible plastic that is super lightweight. The ergonomic design makes it a perfect device to be used for long gaming sessions.
Ear cups That Seal the Deal
The Bionic protein cushion makes the ear cups and prevents sweat from settling during long gaming sessions.
The audio cable also adds to its elegant design. In the k8 variant, you will find a braided cable.
Unbeatable Performance
Many of us would be directly interested in reading this section.
When it comes to the sound quality of the headphones, they are powered by 50 mm HIFI audio drivers made up of a neodymium magnet.
The 7.1 Surround System that comes with these headsets seals the deal.
You can expect an incredible noise cancellation feature and a totally immersive gaming experience. The headphones do a very good job, providing deep sound clarity to hear every detail.
Enhanced Microphone
The Runmus headphones come with an adjustable microphone that will help you coordinate with your fellow gamers without interruption.
The microphone quality has been reported to be excellent because of its clarity of speech and audio transmission. This means you can communicate with your teammates while gaming without hassle. Your natural voice is maintained and extremely clear.
The high-quality recording sound might pose a problem if you want to use the Runmus Gaming headsets for calling purposes. This is because the headsets might capture noises in a noisy gaming environment.
In most cases, the gaming audio flow will be very smooth.
Noise Cancellation To Avoid Disturbance
Most users have also praised the noise cancellation quality because it gives you a chance to indulge in gaming without background disturbances.
Many users have been amazed by the noise-cancellation technology used in these devices. When you use these headphones, a person has to stand beside you for you to hear them.
In-line Controls
The inline controls help you to manage volume control through a wheel. It also has a USB connection to control lighting. It also has a button for muting the mic when you are not playing multiplayer games.
Multidevice Compatibility
One of the unique advantages that you get with the Runmus headphones is that they are compatible with a wide variety of gaming consoles and platforms. The Runmus headset promises excellent functioning with PC laptops, Nintendo Switch PS4, PS5, XBOX One, Mac, Switch, etc.
Here is the significant point why the Runmus K8 headset beats the competition and stands out.
Runmus Gaming Headset K1BPRO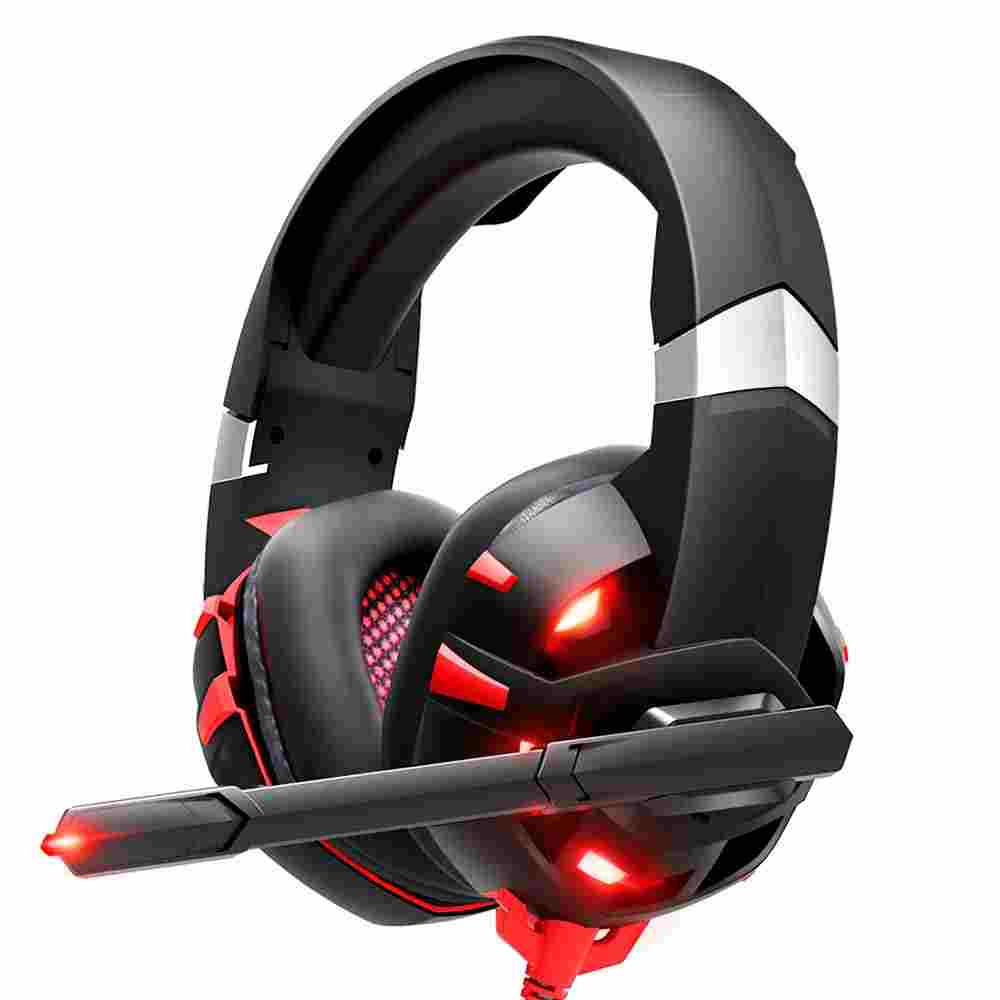 Immersive Gaming
7.1 True Surround Sound Experience
Noise Cancellation Mic with Led light
Best Suited with PS5, PS4, XBOX One, Mac
Comfortable Headgear with bionic protein cushion foam
Retractable and Flexible Device
Runmus Gaming K1BPRO: Build Quality
The headset is designed with a focus on gaming as a primary usage. For this reason, users may find the headset to be bulky. The ergonomic design is also a reason why people prefer this headset over others in this price range.
The adjustable headband is a gift for all gamers who prioritize comfort during gaming sessions. The device comes with a soft memory foam pad that is breathable, making it a one-stop solution to your comfort issues.
Thanks to the large pads, it shouldn't hurt your ears even after prolonged usage. The headset has been designed to be lightweight, around 12 ounces (0.45 kg) only, and can divide the pressure uniformly.
Runmus Gaming K1BPRO: Style
These headphones come with a flexible headband that enhances their style and promises to give you a perfect fit. After some time of usage, we found that the headsets might initially be a little tight, but with time, it becomes comfortable.
The flexible microphone, which also comes with the mute option, is one of the product's highlights. The positioning of the mic is engineered smartly so it won't interfere with breathing.
The product's red lightning design will grab some attention and give the impression of a pro gaming headset. The headset is also equipped with LED light which is a professional look.
Runmus Gaming K1BPRO: Sound Quality
Being powered by a 50mm Driver and 7.1 Surround Sound, Runmus has successfully built standard-quality sound. The immersive gaming experience makes it a definite choice.
Whether you are playing PUBG or Fortnite, these headsets will not disappoint you regarding sound clarity and quality. This means you can enjoy every sound detail, such as the gun shorts and even the footsteps.
The 50 mm driver and surround sound give the headphones a performance boost.
The device is loaded with an immersive gaming experience in games like Fortnite and PUBG, where you must communicate with team members.
The highlight here is the sound detail which helps you listen to the footsteps of enemies and the clarity of gun fires in the game.
Comfort That Lasts Long
The device has been designed to provide prolonged comfort while wearing the headset.
The soft, breathable air pad helps you play games consistently without discomfort. The overall lightweight material and retractable headband also contribute to long-term comfort.
Compatibility For Multiple Gaming Platforms
There is not much to worry about the compatibility as the headphones support multiple platforms, with its 3.5 mm audio jack.
Controller That Puts You In Control
The audio control box has a volume wheel and a quick one-key mute button that gives you full control over the functioning.
This has proven to be quite convenient, as you don't need to interrupt your gaming sessions.
Premium Audio Cable Material
Runmus has offered a black knitted cord material far stronger and more durable than regular plastic audio cables.
Why choose Runmus K1BPRO?
Quality Assured
The 50 mm drivers are powerful enough to offer good highs, lows, and medium audio experience.
The skin-type protein ear cups and lightweight, durable material are the product's highlights.
The Runmus K1BPRO is now available with an upgraded version that provides better audio quality.
The stylish design does not make you compromise with the visuals. For all PS5 lovers, it is good news that the dermis headset is multi-platform, supporting a range of gaming devices.
The microphone is also so sensitive and made to deliver sound with clear audio clarity. It is also known for its noise-canceling features in a noisy environment.
Lastly, the Red LED light on both sides of the headset makes it an awesome choice.
Runmus Gaming K2 Headset Review
Premium Material Used
50mm Neodymium audio Drivers
High Sound Clarity and Communication
Augment Immersive Aural Experience
Stylish LED lights
Active Noise Cancellation
Runmus Gaming K2: Build Quality
The headset has an ergonomic design and is made of premium material. This device also comes with a retractable band and breathable ear pads.
The brand promises that the design has been made by testing the headset on different head sizes and in different positions to ensure that the product delivers a comfortable experience to all users.
The comfortable design can also be attributed to the higher padding, which contributes to its bigger size. The body is quite sturdy, even if it's made of plastic.
The weight is around one pound, and the device also comes with quite a good grip. You don't have to worry about the headphone sliding off your head while you lean forward or backward during your gaming session.
Even though the headphone is not wireless, you don't have to worry about the wired aspect of the device. The cord provided with the headphone is quite long and has a built-in tie.
Runmus Gaming K2: Sound Quality
The sound quality is probably the most highlighted feature of this product. Especially when it comes to fulfilling the functionality for gaming, an immersive sound experience is all a gamer needs. The booming sound is well suited for multiplayer gaming as well.
Talking about the experience you can expect while using the crystal clear clarity of sound, you can hear the enemies coming and also say in which direction they are coming from.
The headphones have particularly impressed me with the good lows, mediums, and highest. It is built to provide you with powerful, deep bass.
In short, I can say that compared to other gaming headphones, the Runmus K2 Headsets really have a good position in the list.
You will get a frequency range of 20Hz-20KHz and an impedance of 32 Ohm. Plus, the surround sound experience is loved by the users.
The device can also be used for voice and video calls; even though the microphone is quite strong and would pick up background sounds, you might need to consider a quiet background for calls.
Comfort For Gamers
The high comfort level with the Runmus K2 headset is due to the adjustable headband.
It can be pulled up or down, and the ear cup slides vertically to adjust per your head size.
Since the headset will not put much pressure on your head, which is a plus point in terms of comfort, you might find it sliding off your head in case of jerky movements.
This is not a major issue unless you are a very enthusiastic gamer who moves rapidly while gaming.
Attractive Color Options
The Runmus K2 gaming headset has some interesting color options, such as Red, blue and black.
Controller For Convenience
The Runmus K2 headphones are made of braided material and a controller at the foot of the headset.
This allows you to increase or decrease the volume using the volume wheel and mute the microphone. This makes it way more convenient to use the device.
Runmus K8
Upgraded 7.1 Audio IC
Premium stereo surround sound
50 mm Large audio drivers
Stylish LED lighting
Long gaming comfort
Durable Tangle-free audio cable
Pros
Premium background noise filtering
Aesthetically pleasing
Comfortable wear and head questions
Best quality at this price range
Cons
The microphone cannot be folded
The surround sound is missing
LED light won't work without USB
Wired
The Runmus K8 is another portable headset offered by Runmus. This device also promises you good audio quality and build quality.
Runmus K8: Design and Look
The Runmus k8 headset has a sharp design that instantly attracts attention.
The company has worked on the design minutely, as we can see in the details in silver and blue.
You also get LED light that enhances the overall look of the headset. However, you would need a connection with the USB port. These headphones really have some premium visuals, considering the affordable price.
If you plan to take the Runmus headsets among Pro Gamers, you will certainly not be disappointed.
Comfort For Long Gaming Sessions
Comfort might not be the best highlight of the k8 headset. The K8 headphones have large rear pads that provide plenty of foam and a cushion.
The headband is also padded, which provides comfort during long gaming sessions. Also worth mentioning is that it is a flexible and adjustable table, making it convenient as you can adjust it to your comfort.
Now, coming to the downside with comfort, some users have reported having felt heat building up during prolonged gaming sessions.
We did not find this particularly annoying however you must consider the downside before making a purchase, especially if you do hours of gaming at one go.
Runmus K8 Tough Build Quality
The total weight of the Runmus K8 headset is around 350 grams, which does not make it super light but not too heavy. The padding on the headset has contributed to the weight.
This is not a big issue as the weight is manageable overall.
Awesome Sound quality
Coming to the sound quality, The Runmus K8 is equipped with an omnidirectional noise-canceling feature.
As per practical use, the headset microphone does transmit clear audio quality. However, it does not do a very good job of canceling background noise, especially when it is louder.
It is surprising to see that the k8 headsets are equipped with 50 mm dynamic audio drivers at this price range. It has a 3.5 mm audio jack.
As you might suspect, these 50 mm drivers play the main role in its amazing audio performance.
As you might already know, the bigger the driver, the better the sound quality, and that's what the 50 mm drivers are made to do.
Stylish Lighting Details
If you are a big fan of LED lighting, you might consider it before making this purchase.
Firstly, you can only enjoy the LED lightning effect when connected to the headset through a USB cable.
Secondly, you don't get RGB lightning in this model, unlike some other Runmus models.
Multi-platform
The K8 headsets are meant to support multiple platforms like gaming consoles such as PS4, Xbox One, Nintendo Switch, and PC.
Why is Runmus K8 an Excellent Choice?
We saw that the k8 headphones do not support surround sound, which could have been a great addition.
Best Performance in Budget Gaming Headset
Focusing on the positives, the headset provides good audio performance with more than a decent microphone, making it a deal sealer, especially when you get it at such a low price.
Is Runmus K8 Suitable for The Ultimate Gaming Performance?
The Runmus K8 wired headset is specifically designed for gaming, so it is not wrong to set high expectations.
Talking about the details, it has a very good stereo audio quality with heavy bass. This will help you enjoy your best action games as you feel the explosions and strong sound effects.
However, the only thing that bugs me is that the k8 headsets do not provide anything unique you would not find in any other gaming headphones.
The surround sound has not impressed me at all

Some premium features like directional awareness, especially when you want to listen to the footsteps of enemies and determine location, are not present in K8.
However, unless you are used to using premium gaming headsets, you will not feel the lack of high-quality surround sound.
Runmus Gaming Headset Reviews: Overall Pros And Cons
Pros
Professional Design that appeals to every gamer, thanks to the unique build style and lighting effects.
No compromise With Sound Quality or microphone quality, which is the primary reason why users are so happy with this product.
Ambient background noise reduction, no distraction from your immersive gaming sessions.
Budget gaming headset
Cons
Not preferable for phone calls unless the environment is quiet.
Not suitable for gym and running.
No wireless headphones option.
Runmus Headset: Frequently Asked Questions
Is Runmus Gaming Headset Good?
Runmus is the perfect gaming headset and a smart choice for gamers looking for high-quality and stylish headphones primarily for gaming purposes. Even though the headphones are unsuitable for traveling, their strong body is durable.
Which Runmus Headset is the Best?
There are a variety of Runmus headsets available in the market, and Runmus has different series. You must look into these specifications and purchase the product best suited for your usage.
Why is my headset working but not the mic?
Pro gamers use sets from various headsets, such as Logitech, Razer, and SteelSeries. However, Runmus has emerged as an excellent choice for professional gaming headphones at a cheap price.
Are expensive gaming headsets worth it?
That might not be the case every time. Most of the time, you might just be paying for the brand name and not the technology used in the headset. Runmus headsets come at a decent price range and have excellent build and high-quality sound.
Final Verdict
Runmus Headsets have been in constant demand for performance and design. Many products of Runmus are, in fact, not in stock.
Hopefully, this guide will help you choose the best headset for your needs.