Is your pet frightened of thunder or fireworks? Do they wine, pace back and forth or run away during storms?
The truth is dogs' ears are sensitive to even lower decibels and can be impacted by noises from miles away. But if you use hearing protection equipment on your dog's ears, you can significantly reduce their discomfort and anxiety.
That's why I did deep research to find the top 3 best noise canceling headphones for dogs. Find it here:
Mutt Muffs DDR337 Hearing Protection for Dogs

Over-the-Head Protection with Foam-filled Ear Seals
Excellent Comfort with Adjustable Straps
Lightweight and Sturdy
Passive Sound Reduction
Available in different colors and sizes

Peltor Sport RangeGuard Electronic Hearing Protector

Can be worn by both humans and animals during hunting and shooting activities
21dB Noise reduction rating by NRR
Foldable headphones with adjustable headband
Ergonomic built and design
Recessed microphones to reduce wind noise and damage

K-9 Ear Muffs

Aviation approved sound reducing foam with non-toxic gel cups
Comes in 3 sizes- Small, Medium, and Large with Adjustable webbing straps
'Break-away Clip' on-chip strap to present choking
Superior comfort with external attachment point
Available in 3 colors – White, Pink, and Black
⚖ Comparison Table for Best Noise Canceling Headphones For Dogs: (Ratings on a scale of 1-10)
| | | | |
| --- | --- | --- | --- |
| Parameters | Mutt Muffs DDR337 | Peltor Sport RangeGuard | K-9 Ear Muffs |
| Hearing Protection | 7.8 | 8.0 | 8.2 |
| Comfort | 7.2 | 8.7 | 9.0 |
| Design | 7.5 | 8.2 | 8.6 |
| Added Features | 8.0 | 8.5 | 8.2 |
Also Read: How To Prevent Hearing Loss From Loud Noise [Advanced Tips]
🐶 Why Are Human Headphones Not Good For Your Dogs?
⭐REASONS⭐
Humans and dogs have different head sizes. So, what may be a comfortable fit for you, might not be the best choice for your dog.

The ear structure and size are different for humans and dogs. So ear cuff sizes for humans are different from that needed for dogs. Human headphones might not cover a dog's ear canal adequately and thus will not solve any purpose.

The hearing abilities of dogs and humans are different. Where humans can hear frequencies ranging from 20 – 20K Hz, dogs can hear between

40 – 60K Hz

, which is much higher. Their highly sensitive hearing necessitates better noise shielding ear cuffs.

Dogs have hairy bodies, while humans do not. Head straps, buckles, and hooks might tangle in their hair, increasing a dog's resentment of wearing them. Plus, dogs need both over and below the head grip to keep the headset in place.
🌟 Factors To Keep In Mind While Buying Headphones For Dogs!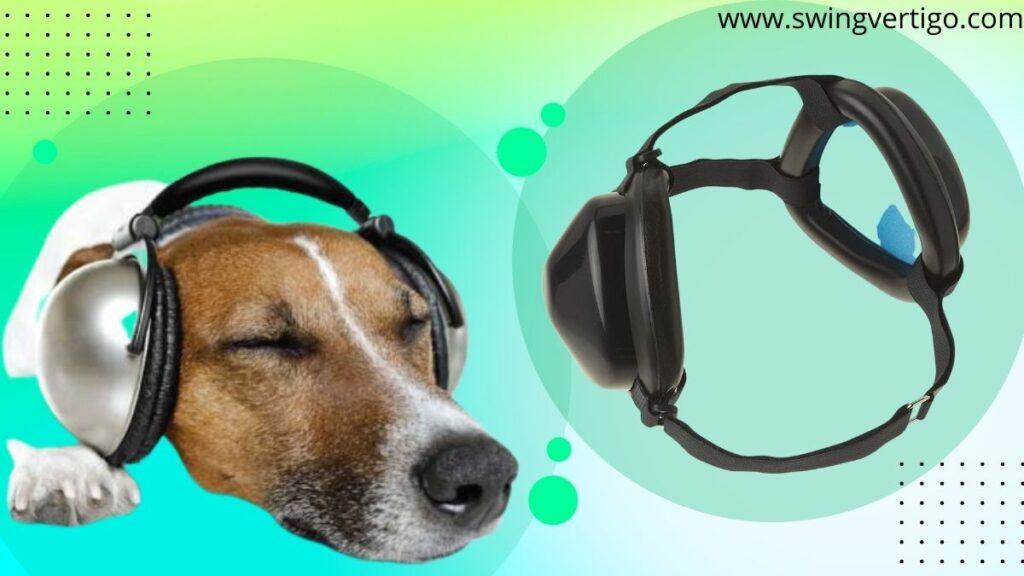 🔇 Level of Noise Cancellation
If you live near roads with 24/7 traffic, near airports with continuous airplane noises, localities with loud neighbors and barking dogs, or in a city that experiences frequent thunderstorms, buying headphones for your dog is a great choice.
🎆 Dog-friendly Design
Do not buy headsets with buckles that get stuck in your dog's hair or velcro straps that irritate their skin. Ensure the hearing protection tool is gentle on their skin and does not cause them any discomfort.
Choose the right design depending on the dog's breed and size.
🎯 Secure Fit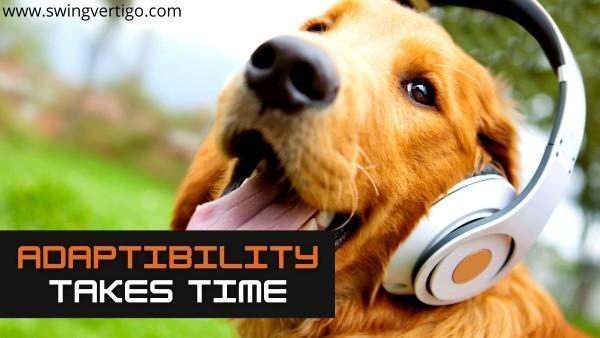 First-time users will resent these headsets and try to take them off, but once they realize that it helps reduce their anxiety, they will let you put them on.
Make sure you buy a headset with a secure and stable fitting, so it doesn't easily slip off their head.
🦅 Light-weight
Last but not least, make sure the hearing protection tools are light on your pup's head and don't feel like a burden.
Choose a lightweight pair, especially for the little ones, as they may have to wear them for longer durations without discomfort.
👌 Adjustable Straps
Every dog has a different head curve and ear direction.
The headband or the straps on the headset should be adjustable to alter according to your dog's head and comfort.
1️⃣ Mutt Muffs DDR337 Hearing Protection for Dogs: Full Review
Pros
Over-the-head protection
Stable and comfortable on dog's head
Adjustable straps
Foam-filled ear seals
1-year warranty
Mutt Muffs over-the-head Hearing protection equipment has gained popularity over the years as more pet owners face problems with their dogs. They were first used for service dogs in the aviation and army to protect their hearing in extremely loud situations.
🔊 Hearing Protection
Their ear cups have a wide circumference to fit your dog's ears. They do not offer complete noise cancellation, but a significant sound reduction is still offered.
Your dog will hear loud noises at softer and acceptable volumes that don't trouble them anymore.
Although, be careful as noise reduction might be a safety concern if your dog is outside the house or on the road.
☁ Comfort
Their webbing straps are gentle on the skin and offer excellent stability and comfort. The straps can be adjusted around your dog's head for a snuggle fit.
The dogs may resent wearing them at first but later get used to them as they discover their utility.
🎐 Design
Overall, the build and design are robust and sturdy. They are available in different colors like blue, black, red and pink.
They are also available in various sizes, from extra large to extra small, to choose the right match for your dog's head.
With these headsets comes a 1-year warranty in case you wish to replace them if they are not suitable for your dog.
Also Read: Top 3 Earplugs [For Humans] That Look Like Earbuds In 2022
2️⃣ Peltor Sport RangeGuard Electronic Hearing Protector: Full Review
Hearing protection is essential in various places, whether in loud surroundings or while practicing shooting on the range.
Pros
Suppresses gunshot noises
Suitable for both indoor and outdoor activities
Recessed microphone to prevent damage and reduce external noises
Amplification of low voices for clear communication
21dB NRR rating
Cons
4-hour auto shut off and low battery warning
Batteries (2AAA) are not included in the package
Peltor headsets are produced by the 3M technologies of the United States. They are designed for both dogs and humans. So, if you want to take your dog along to the range next time, make sure their ears are protected.
🔊 Hearing Protection
Peltor Sport offers excellent noise cancellation to protect your dog's ears against gunshot noises. They have a 21dB NRR rating which is quite good compared to the ideal 28-31dB ratings.
☁ Comfort
These over-the-ear headsets with low-profile cup designs with durable padding offer great comfort and fitting. They can be easily worn over a cap or under a helmet.
🎐 Design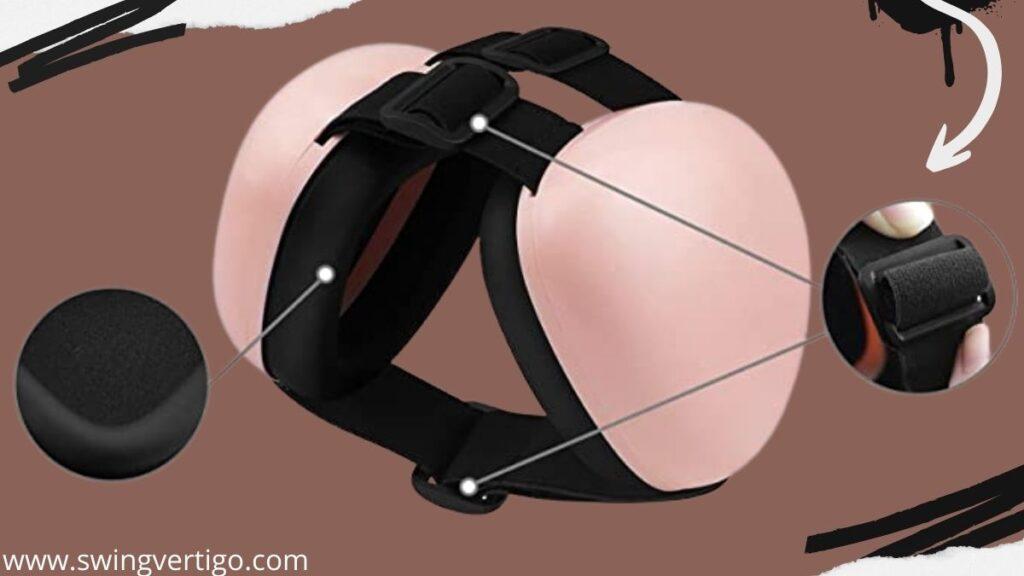 Peltor sport flaunts an ergonomic design with foldable ear cups and an adjustable padded headband for a personalized fit. It is available in 2 color pallets:
It has an external battery compartment for easy access.
They also have a 3.5mm audio jack which is compatible with MP3 players and radio. They are battery operated and use 2AAA batteries which are not included with the package. Features single On/Off and volume control.
Also Read: Top 3 Noise Cancelling Earbuds For Construction Noise [Tested IN 2022]
3️⃣ K-9 Ear Muffs: Full Review
Pros
Molded with attachment points on the outside.
Noise-reducing Gel seal
Non-toxic to animals
Break-away clip for safety and to prevent choking
Available in various sizes and colors
Cons
It takes little work to make them stay in place.
K-9 Ear Muffs are a great pair for your dog made with FAA-approved materials and provide high hearing protection. Although these are a bit more expensive, they offer higher-quality built and design.
🔊 Hearing Protection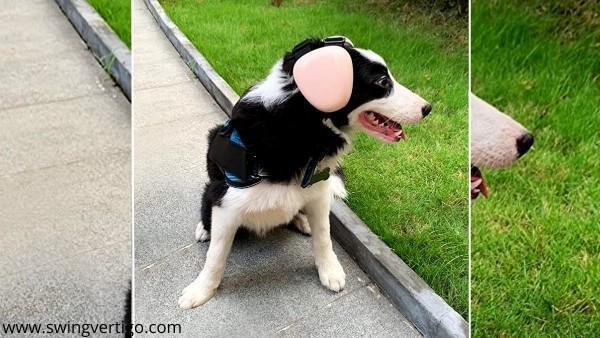 K-9 Earmuffs offer fantastic sound reduction, keeping your dog calm in loud environments. Their non-toxic gel-based ear cuffs ensure a secure seal and comfort.
Their 45dBHL noise reduction rating is one of the highest in the market.
☁ Comfort
The external attachment points offer better comfort and stability. With both over and below head straps, over-the-ear fitting help keep the headset in position.
🎐 Design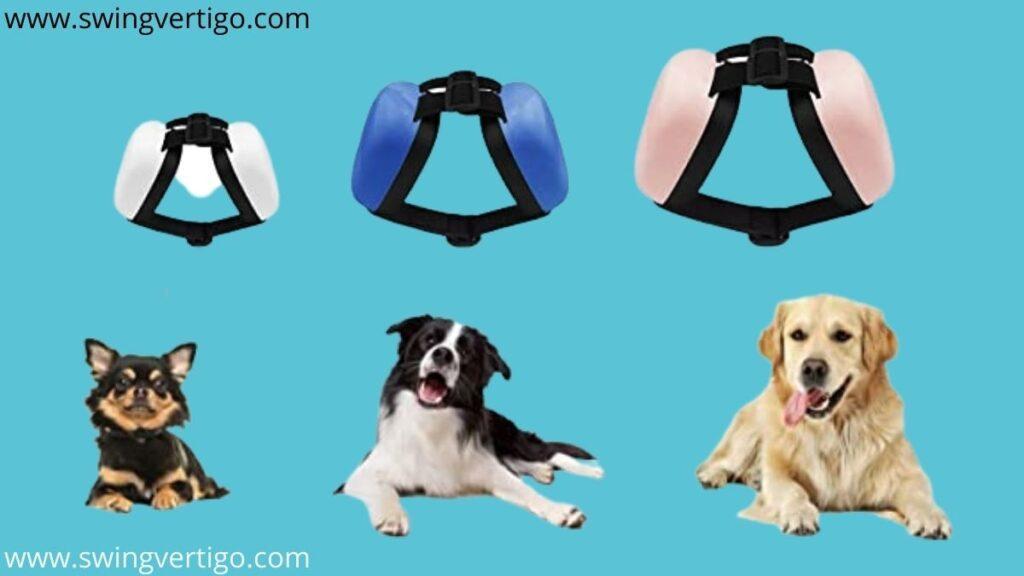 The webbing fabric strap that is smooth and gentle on your dog's skin makes them more dog-friendly. According to the size and weight of your pet, they are available in 3 sizes:
K-9 earmuffs have buckled straps for better adjustment and a break-away clip to prevent choking and provide better safety for your pet.
📖 3 Tips For Better Hearing Protection For Your Dogs
💙 Provide Them Safe and Quiet Environment
As dogs have sensitive ears, do not play loud music near them and avoid sharp, high-pitched noises as it causes them anxiety.
💙 Shift Your Dogs to another place during Festivities and Parties
In case you are planning to throw a big party with loudspeakers or celebrate festivals with fireworks, make sure you have shifted your dog to a quieter place away from the celebration where they are calm and comfortable.
💙 Use Dog-Friendly Hearing Protection Headsets
If keeping your pets away from loud noises is inevitable, hearing protection headsets are your last resort. This little investment goes a long way in providing your pup with a better living environment.
💡Best Noise Canceling Headphones For Dogs: FAQs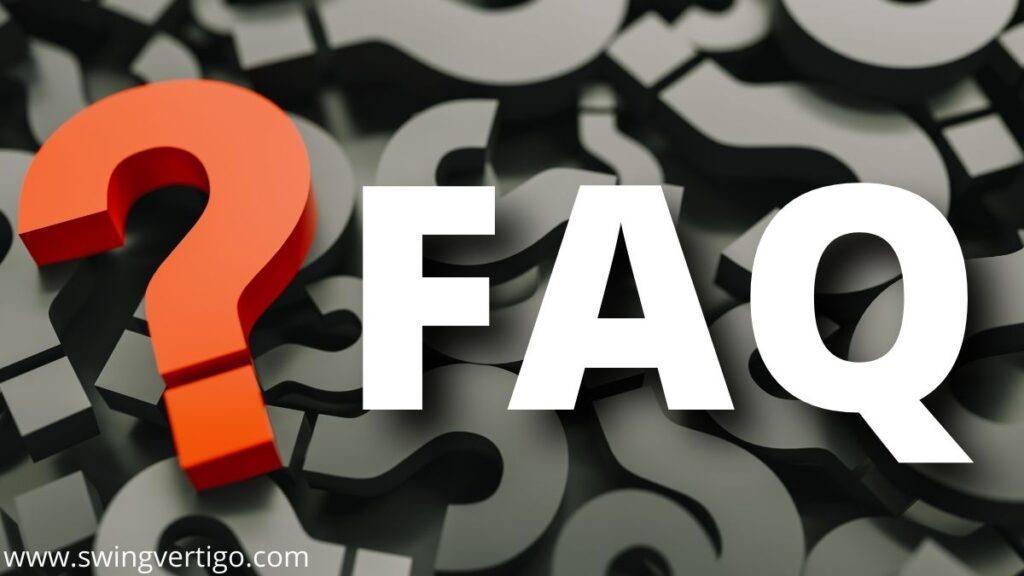 1. Do ear muffs for dogs work?
Ans. Ear Muffs are basically soft stretchable round fabric that covers the dog's ears to prevent them from listening to loud noises that may cause them stress. PoochMate Dog ear muffs are a popular choice among pet owners.
2. Can I Put Cotton Balls In My Pet Dog's Ears For Noise Protection?
Ans. Yes, inserting cotton balls or gauzes may help reduce some noise, but they are not very effective. I prefer ear muffs or headsets for better protection.
3. How Can I Protect My Pet Dog's Ears From Fireworks?
Ans. Firework noises are loud, and cotton balls or earmuffs alone are ineffective in preventing their noise from reaching your dog's ears. Locking your pets indoors and a hearing protection device will be the best solution for this situation.
4. How Loud Is Too Loud For Dogs?
Ans. Sound ranging from 85-100 dB (40 – 60k Hz) is normal for your dog's hearing, but noise above 140dB can cause significant damage and pain to their ears.
5. What Is White Noise For Dogs?
Ans. White noise is created when you play every sound at every frequency randomly, which camouflages the external abrupt loud noises. It's like creating your own internal sound environment to cope with external noises. You can turn the white noise machine on or play soft music for your dog to calm their nerves.