We all want to keep our precious little ones safe and well, and that includes safeguarding their ears from loud noises. High-decibel sounds can damage a baby's hearing or even lead to hearing loss because the baby's hearing is delicate. Nowadays, noise pollution is a common issue, posing potential risks to the hearing health of a baby through everyday activities, events, and environments.
Investing in a pair of high-quality baby ear muffs is essential to combat this problem and protect your baby's ears. This is why this ultimate guide comes in handy! In 2023, we intend to provide you with a comprehensive list of the best baby ear muffs for noise protection.
Table of Contents
This guide will provide you with a curated selection of top-rated products to help you choose the right pair for your child. After reading this guide, you'll have the tools you need to make an informed decision, protecting your baby's hearing and comfort in any noisy environment.
Factors to Consider When Choosing Baby Ear Muffs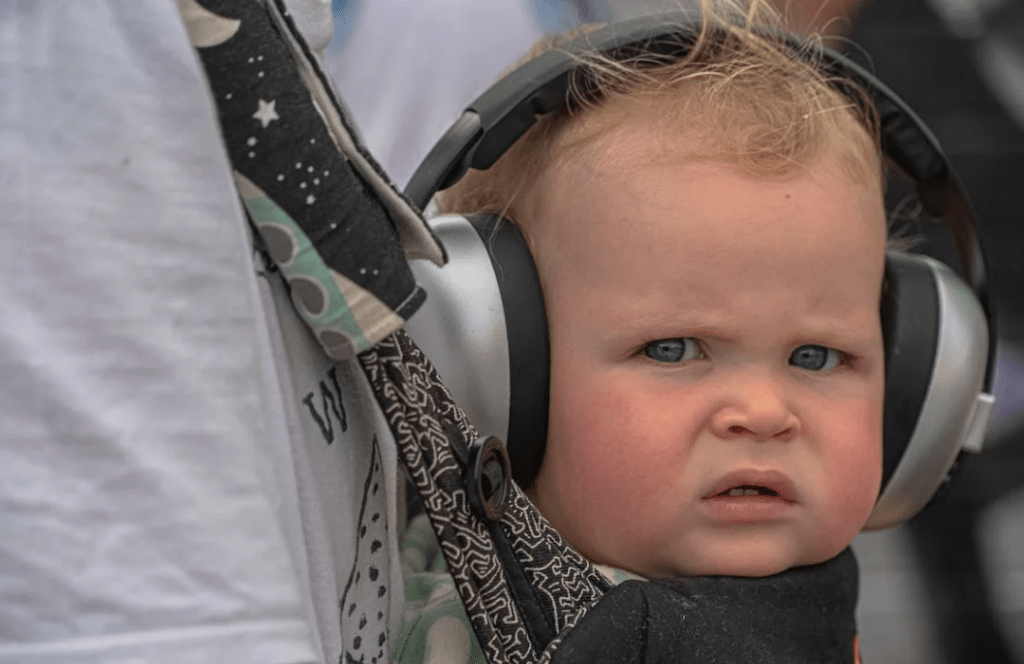 There are several factors that need to be considered when selecting the perfect pair of baby ear muffs to ensure your child's comfort, safety, and noise protection.
In this section, we will provide an in-depth explanation of the crucial factors you should consider when Selecting Best Baby Ear Muffs for Noise Protection. By understanding each factor, you will be able to choose ear muffs that will meet your baby's needs as well as provide him or her with the best possible care for the delicate ears.
Size and Weight
The size and weight of the ear muffs are of utmost importance because they directly affect your baby's comfort. Find a pair that is specifically designed for babies to ensure that they fit snugly and comfortably. You should also select lightweight ear muffs, since they will not strain your baby's head or neck, allowing them to wear them for extended periods without feeling uncomfortable.
Noise Reduction Rating (NRR)
You should consider the NRR when choosing ear muffs, as it determines how effective the ear muffs are at reducing noise levels. When choosing ear muffs for your baby, look for those with an NRR of at least 22 decibels (dB), which is suitable for most everyday environments. However, if you are attending a particularly loud event or setting, you may want to consider ear muffs with a higher NRR.
Comfort
The comfort of your child is a key consideration when choosing any baby product, and ear muffs are no exception. Look for features such as soft, cushioned ear cups and adjustable headbands to ensure a comfortable, customized fit. When your baby wears ear muffs made of breathable materials, he or she will stay cool and comfortable without overheating.
Durability and Ease of Cleaning
Choosing ear muffs made of durable materials that can withstand regular use and cleaning is important for babies because they can get messy. If your baby's ear muffs have removable cushions or machine-washable components, maintaining them is easy, ensuring they stay clean and hygienic for optimal safety and performance.
Safety
When it comes to baby products, safety should always be a top priority. Make sure to choose ear muffs made from non-toxic and child-safe materials, free from harmful chemicals like BPA and phthalates. Ensure the ear muffs meet relevant safety standards and certifications, so you know your baby is protected effectively and securely.
When you consider these factors, you can confidently choose baby ear muffs that offer your child the perfect combination of comfort, safety, and noise reduction.
Alpine Muffy Baby Ear Protection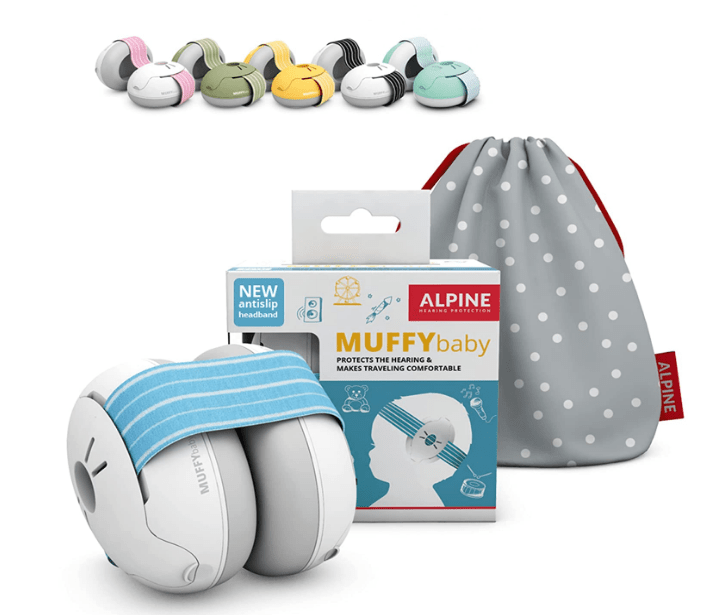 Pros
Effective noise reduction
Comfortable and adjustable fit
Durable and hypoallergenic materials
The Alpine Muffy Baby Ear Protection is a high-quality and essential accessory designed to safeguard the hearing of babies and toddlers up to 36 months. You can protect your child's delicate ears from harmful noise levels that can result in permanent hearing loss with this innovative, award-winning Dutch product, offering 23 dB SNR noise reduction and CE and ANSI certifications.
Infants under 18 months are guaranteed comfort and safety with Alpine Muffy Baby Ear Protection, featuring a unique, soft headband that eliminates pressure on the fontanel. With its adjustable, non-slip headband made of polyester, this headband offers a secure, customized fit without any hard or dangerous parts. Multiple layers of noise-reducing foam and soft padding provide optimal closure and protection for the ear caps.
Crafted from sustainable, hypoallergenic materials, these baby headphones are free from silicone and BPA, minimizing the risk of allergic reactions or irritations. In addition, the product comes with a convenient carrying pouch, making it an essential travel accessory for airplane or car journeys.
Alpine Muffy Baby Ear Protection showcases 25 years of research and development experience in hearing protection, offering parents peace of mind that their child's hearing is well-protected, while also promoting better sleep quality in noisy environments. Invest in your child's well-being with this trusted, reliable, and effective product.
BANZ Kids Headphones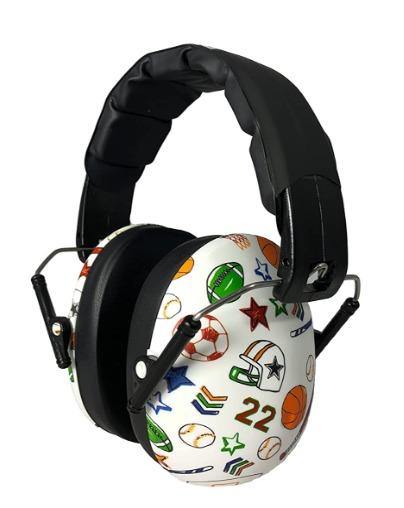 Pros
Industry-leading NRR of 28dB for excellent noise reduction
Adjustable headband fits children of all ages comfortably
Super-soft padding for added comfort and unique color options
Cons
May not be suitable for extremely loud environments
Not ideal for children who don't like wearing headphones or headbands
Slightly higher price point compared to some alternatives
Secondly, on our list is BANZ Kids Headphones which are perfect for protecting your child's hearing, regardless of their age. With a top-notch noise reduction rating of 28dB, these headphones are among the best on the market for kids, helping to block out harmful noise and keep their ears safe.
These headphones are lightweight and durable, so they can be used at all kinds of events, including sports games, car races, concerts, airports, wedding receptions, movies, and even around loud machinery or fireworks. Furthermore, if you have a child with autism, these headphones can be an important tool for reducing exposure to loud sounds.
These BANZ Kids Headphones are specifically designed for kids, with a super adjustable headband that fits kids of all ages. You'll quickly see why BANZ continues to lead the market in sound protection for children.
They're also super convenient due to their collapsible design. They fit easily in travel bags, so you can take them wherever you go. And they're really comfortable to wear. BANZ Kids Headphones feature extremely soft padding, and their stylish design and unique color options make them an instant hit with the little ones.
BANZ Kids Headphones are definitely the best choice if you want high-quality, reliable hearing protection for your child.
WORCBGIO Infant Ear Protection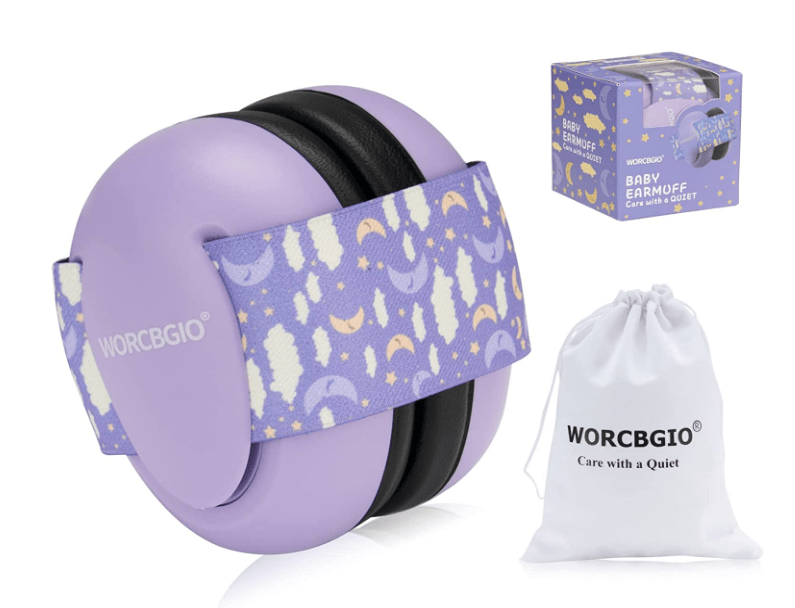 Pros
Adjustable headband
Nine creative designs to choose from
Professional certifications
Cons
Not suitable for high-decibel environments
May not fit all head sizes perfectly
No batteries are included
Finally, we have noise-canceling infant earmuffs from WORCBGIO! Designed to keep your baby away from external noises, these headphones will help them sleep better during construction, airplanes, or any other noisy environment that may disrupt your baby's sleep.
There are nine unique designs for you to choose from, so your baby can look stylish and adorable while also staying protected. They have an adjustable headband and can be easily extended to fit your baby perfectly.
With the WORCBGIO Infant Ear Protection Earmuffs, you get two solid headphones that are easy to install and proven to reduce noise by at least 29dB(SNR). It is easy to carry them around when not in use because they come in a colorful box and with a soft cloth storage bag.
Moreover, these earmuffs have professional certifications that ensure their safety and quality, including EN352-1:2002, AS/NZ S1270:2002. With these certifications, you can rest assured that your baby is using an reliable and trusted product.
In summary, the WORCBGIO Infant Ear Protection is an excellent choice for parents who want to protect their babies' hearing in noisy environments. With a stylish and adjustable design, high-quality solid headphones, and professional certifications, these earmuffs are perfect for keeping your baby safe and comfortable.
How to Properly Use Baby Ear Muffs
In addition to keeping our children safe, it is important to protect their sensitive ears from loud noises as parents. Baby ear muffs are an ideal solution for keeping your little ones safe in loud environments. To ensure maximum effectiveness, it is essential that you use them correctly.
Make sure the ear muffs you choose are the right size and style for your child's age and head size. Make sure the ear cups cover the child's ears completely without putting excessive pressure on them.
It is also important to use them in the right situations. When exposed to loud noises, such as fireworks, concerts, or machinery, wear your ear muffs before the event begins and keep them on until the noise disappears.
If you are using baby ear muffs, make sure they are comfortable for your child, that the ear cups fit snugly but not too tightly, and that they can be combined with other hearing protection, such as noise-canceling headphones or earplugs, if necessary.
To protect your child's delicate ears from long-term hearing damage, it is essential to use baby ear muffs properly. Every child is different, and if you have any concerns about your child's hearing or the use of ear muffs, you should always consult your pediatrician.
Overall, with the proper usage of baby ear muffs, you can help ensure your child's safety and protect their hearing in loud environments.
Conclusion
In conclusion, baby ear muffs are an essential accessory for protecting your child's delicate ears from loud noises that can cause long-term hearing damage. When choosing the right pair of ear muffs, consider the factors such as size, weight, noise reduction rating, and comfort.
Buying the right baby ear muffs that are suitable for your child's needs is essential. The three products below offer excellent noise reduction and are designed to fit comfortably on the head of a child. We recommend conducting thorough research before purchasing any baby ear muffs.
In conclusion, protecting your child's hearing is a top priority, and baby ear muffs are an effective way to do so. With the proper usage and the right pair of ear muffs, you can keep your child safe and comfortable in loud environments.